| Camera | Still Image Quality |   |   |
| --- | --- | --- | --- |
| Sony POV Action Cam HDR AS100V | 13.5MP | | |
| iON AIR PRO 3 Wi-Fi | 12 MP | | |
| Drift HD Ghost S | 12 MP | | |
| Contour +2 | 5 MP | | |
| CamOne Infinity | 5 MP | | |
GoPro – the tiny, tough, mountable action cam – has arguably dominated its segment of the camera landscape in recent years.  But while the GoPro brand may seem ubiquitous, it certainly is not the only action camera worth taking a look at when you're in the market.  Many companies have gotten in the game in recent years, and there are some solid options out there that include the killer features many love about the leader in the category, along with unique offerings or a
lower price
.  We profile three of these GoPro alternatives below.
Sony POV Action Cam HDR AS100V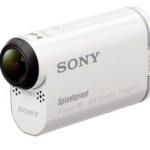 Battery Life is 2.5 hours
Image Quality is 13.5 mp
Audio Quality is Strong
No Built-In WiFi
The Sony POV Action Cam HDR AS100V features a splashproof body, which is one of the main changes from earlier versions of the cam.  Very small and super light, the AS100V includes a tripod mount and waterproof case in the standard base package, though with the splashproof body, you won't need the bulky waterproof case in rain or snow, just for submerging the cam.  The camera features auto exposure and white balance, and a special shooting mode for underwater.
It has few buttons on the body, but includes a light on the top to indicate when it is recording, a built-in GPS, and a mic jack for enhanced sound.  Sony also sells a partner device that can be purchased in a bundle with the cam for an additional 100 called the Live View Remote, an accessory you can wear on your wrist to control and monitor your shot.
For a bit of variety, the camera offers different color settings for video, including "vivid" and "neutral." It has more megapixels than the GoPro Hero 3, and slightly more battery power.  Sony also boasts a broad range of accessories for the camera.  Another cool feature?  The GPS functionality can add speed and location info to your video.
MSRP: 299.99
Field of View: 170 degrees (120 with shot stabilizer on)
Video Capability: 1080/30fps
Still Capability: 13.5 mp
Weight: 3.2 oz
Dimensions: Approximately 1"x2"x3"
Waterproof: Splashproof, use waterproof casing for submersion
View Sony HDR-AS100VR POV on Amazon!!
iON AIR PRO 3 Wi-Fi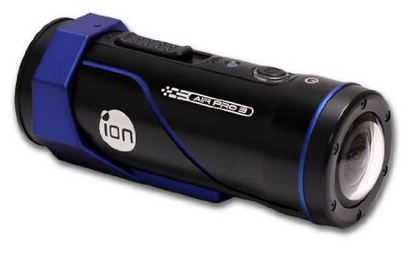 Battery Life is 2.5 hours
Image Quality is 12 Megapixels
Audio quality is Average
Built-in Wifi enabled
One of the best features of the is that there's no extra waterproof shell casing required – the camera's metal casing is itself waterproof.  This is especially handy because all buttons and functions can be accessed underwater, and the sound isn't obscured by a plastic casing. While this cylindrical action cam is twice as long as the GoPro, making it a bit bulkier, when used for underwater activities it is one of the lighter wifi-enabled action cams on the market because it doesn't require additional casing weight.
It provides a good picture quality, with auto exposure and white balance functions built in, and provides a photo with higher contrast and a sharper look, if that's your thing.  The wifi app, similar to most other action cams, works on your phone and allows viewing of video, remote start functionality, and social media shareability. iON has fewer accessories than some of its competitors, but covers your bases with a suction mount, helmet mount, and other sport-specific mounts for boards and bikes.
There are both pros and cons to the manual functionality on this camera.  It has an easy on/off button, and the ability to turn on the camera and start filming instantly with one touch – a bonus for anyone that has fiddled with making sure a GoPro is on (one button) and rolling (another button) and subsequently missed their shot.  The cam also features a mic jack for clearer sound if desired, and a vibrating signal lets you know if it's filming or not, for those situations where your eyes need to be elsewhere (think helmet cam.)
One con is that the device lacks a screen – you can't actually see your remaining storage capacity on the device itself, so you'll have to be checking the app for that info.  There's also not an indicator on the cam itself to show remaining battery life, but you can get this info on the app.  The battery life on the iON AIR PRO 3 Wi-Fi is touted as about 2.5 hours, but the battery can't be removed and switched with a fresh one when it dies, so you'll have to plan a re-charge session when the battery calls it quits for the day.
MSRP: 349
Field of View: 160 degrees
Video Capability: Up to 1080p/60fps
Still Capability: 12 mp
Battery Life: About 2.5 hours at full HD
Weight: 5 oz
Wifi/App: Yes
Waterproof: To 49ft
Dimensions: Approximately 4"x1.5"
View the iON Air Pro™ 3 on Amazon!!
Drift HD Ghost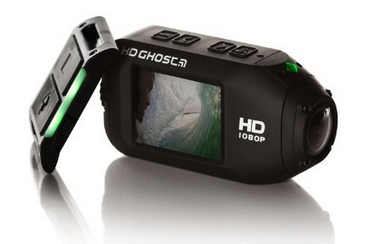 Battery Life is 3 hours
Image quality is 11 Megapixels
Audio quality is good
Wifi is Built-In
Unique to the Drift HD Ghost is the two-way LED remote control that comes standard, and can be worn on the wrist for easy use.   This remote has LED lights that instantly indicate which recording mode the camera is in, allows for remote mode switching and photo taking, and can function up to 30 feet away from the device. The Ghost also boasts a video tagging feature that lets you segment a shot for easy access to the clip later, and only uses memory for the best action of your day.  You can leave the camera running throughout your activity, but only tag and save the moments you like, up to 5 minutes after they happen – you just press the menu button and save 30 seconds to 10 minutes of previous video.  This can save a ton of editing time later, and give you easy access to the best footage instantly!
One very nice feature of the Ghost is its 300 degree manual rotating lens, which allows you to compensate for uneven mounting.  The cam has a built in LCD screen (not that common in action cams, and very convenient), which is made of high-end scratch-proof glass.  It's also waterproof to 9 ft right out of the box.  Videos and still pictures are crisp and of nice quality with this device.
MSRP: 299
Field of View: Up to 170 degrees
Video Capability: Up to 1080p
Still Capability: 11mp
Battery Life: 3 hours
Weight: 5.9 oz
Wifi/App: Yes
Waterproof: To 9 ft, use additional casing below that depth!
Dimensions:  Approximately 4.1"x2"x1.3"
View the Drift HD Ghost on Amazon!!
Alternatives Epic Action