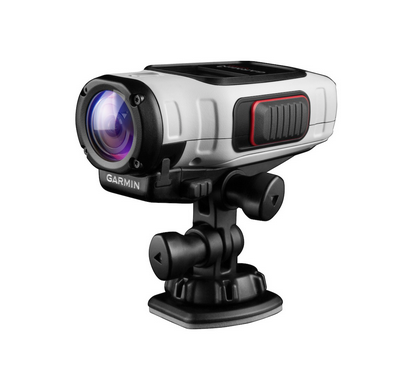 Garmin has hit the market with two action cams- the Virb and the Virb Elite. They are identical in size, shape, and design, with the only difference being that the Virb Elite comes with a handful of extra features, including  GPS, WI-FI connectivity, an accelerometer and an altimeter. Together, these features justify the higher price point for the Virb Elite, which is the focus of our review today.
The Good:
Has a battery life of up to 2 hours 30 minutes, beating the GoPro HERO series.
Waterproof in up to 1 meter of water without extra waterproof housing
User friendly, with control buttons that are easy to manipulate
Easy sharing enabled with Wi-Fi and smartphone app
Chroma Display
The Bad
Not ideal for fast-paced action, as it can only do 1080 pixel video at 30 frames per second
Blurred images without details when used under low light
Too heavy (180 grams) to be comfortably used with a mount
The screen of the camera does not have a backlight and, thus making it hard to see in low light
Slow start-uo time
Garmin Virb Elite Reviews on Amazon!!
Features of the Virb Elite Cam:
Weight:
As compared to other devices, The Virb elite is heavier and bulkier with a weight of 180g without the casing and with the casing it's even worse and can get up to a weight of 250g and thus not very suitable for mounting. When you compare it with the Go Pro, it has a weight of 74g making it more preferable than this. This however does not mean that it does not have other advantages.
Usage:
Although the camcorder does not have many physical controls, it is still easy to use and this is made possible by the buttons for navigating the menus and a control button for video recording.
Storage:
The camera comes with a memory card slot. The memory slot is located under the battery and this means that you would rather put a memory card with a decent storage just at once to save you the hustle of removing and putting back the battery every now and then.
File Transfer:
Just like many cams, the camera comes with a micro- USB port for data transfer which makes it easy to transfer data. The fact that the cam has inbuilt Wi-Fi makes it possible for a smartphone to access the camera and even control the camera. Through the APP, transfer of files is an easy affair.
Garmin Virb Elite Reviews on Amazon!!
Waterproof Ability:
The camera has a waterproof ability of upto1 meter for 30 minutes which is a common feature for many action cams. This therefore means that for activities that involve a lot of water a separate waterproof casing has to be sought so as to protect the camera.
Long Battery Life:
The camcorder comes with a long battery life of up to 2 hours 30 minutes which lasts for quite sometime for a camcorder allowing you to record a lot
Display:
Apart from the go pro hero 3 and the JVC ADIXXION GC-XA2, it is the only other camera with Chroma display which is a good feature for an action cam. The screen however does not come with a backlight and this was done in order to prolong the battery life. This means that it is hard to see the screen in low light.
Video Quality:
Just like many compact cameras, the Garmin Virb Lite comes with a 16 megapixel sensor which is in the format of ½.3"CMOS. To shoot a 1080 HD video it uses 2 megapixels in still mode. The disadvantage of this camera over others is the fact that it can shoot for a maximum of 30 fps for a 1080 HD video. If it has to use 60 fps then it has to switch to 720p. This therefore means that it is not viable for fast action activities. It can however record a WVGA at up to 120fps. T The camera also does not have an optical zoom instead a digital zoom which is not as good as optical zoom. In using the digital zoom, the stabilization is not very good unless one switches to ultra-zoom mode which cannot feature wide angle scenes. This makes other cameras like the go pro an advantage over this. When it comes to sharpness, the Garmin camcorder is not very sharp especialy in low light. It works better where the lighting is good and the images will look sharp and crisp. In low light you can therefore not get the detail of the video or the photo you are taking because the image processor is concentrating on noise reduction and this means that the videos will be clear from noise. The audio quality is not great but is good enough for most activities.
Garmin Virb Elite Reviews on Amazon!!
Related Links