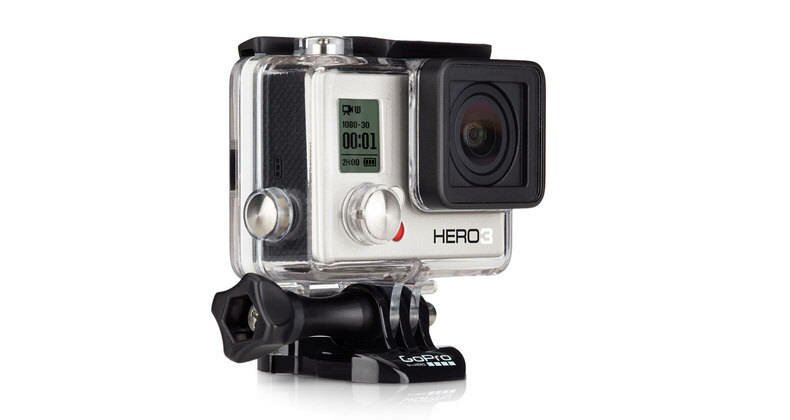 If you are on this page, there is a very good chance that you already own a GoPro and are looking to take your use of it to the next level.
If you are serious about maximizing the many features that a GoPro offers, my recommendation is that you check out Project GoPro. This was my go-to resource that I used when I got my first action cam, a GoPro HERO3.
Learn how to become an action cam ninja at Project GoPro today!!
If you want some to learn how to become a better GoPro cinematographer in just five minutes, continue reading for some of the tricks, tips, and hacks we have assembled through our hundreds of hours of experimentation with GoPros.
While GoPro claims that they produce video cameras which turn ordinary people into self-shot action movie stars, when I picked up my first version, a Hero Black Edition, I just felt confused. All the different settings and options were a bit overwhelming, and I went months without maximizing my camera because I didn't know then what I know now about setting up personalized settings.
Visit Project GoPro!!!
or
View GoPros on Amazon!!!
Tip One: Setting up FOV
New users often find setting up a Field of View (FOV) settings to be difficult. These cameras feature super wide lens, perfect for shooting action and high intensitty shots, as the wide lens provides a huge field of view. Its fisheye effect also enhances action shots. However, for everyday use or video-logging, the wide lens view simply isn't appropriate. While it provides 2 FOV settings, it doesn't offer a simple solution to the problem of too-wide shots. If you want to reduce the field of view to the minimum, a 127 degree semi-wide angle mode, that mode is available only in 1080p, and image quality is dramatically reduced. The effect is that it seems the camera crops the image sensor in order to change the FOV, similar to a digital zooming in a compact camera. In the process, the quality of the footage is dramatically reduced and the images acquire a grainy flavor.
Nonetheless, there is a simple solution to this- simply record the footage using the standard 1080p settings, then export that footage to video editing software and convert it to 720p format. By doing this, the footage will still have the same FOV as the narrower mode of GoPro, but the video will be high quality. While shooting the video, remember to not to frame the shots too closely as the warped areas will be lost during the conversion process.
Visit Project GoPro!!!
or
View GoPros on Amazon!!!
Tip Two: Improving Audio Quality
Likely the biggest downside of that GoPro users discover is its weak audio quality. Basic usage will not be hampered by this drawback, but using the unit as standard video camera will not be possible without purchasing Skeleton Housing
and using that to affix an external mic. Various types of mics are available, and the choice of mic, like the choice of your camera itself, depends largely on your requirements and budget. A lot of people go for the Sony ECM-DS70P Electret Condenser Stereo Microphone at 50, but we are here to tell you that you can actually snag a fake one for just five bucks. And, as crazy as it seems, some users have even reported that the fakemic sounds better.
Tip Three: Our Best Shooting Tips
Shooting Slo-Mo
A huge disappointment for users is the absence of any real slow motion mode. Though the HERO 3 lists 30, 48, 60 and 120 frame per second (fps) shooting modes, the 120fps mode can only be used at an 848*480 pixel resolution, which is really outdated in this HD era. In order to record real slow motion footage, a plugin named is needed, which is priced at 600! However, it is possible to get the same effect of this plugin by recording video at 60fps in 720p mode, and then reducing the speed by 50%. That will yield a 30fps 720p video, which will look great! Unfortunately, one can't do this using the 1080p mode, as it doesn't allow 60fps recording.
Shooting Yourself
If you want to shoot yourself with the GoPro, make sure that the device is positioned a bit away from your body. If you point the device directly at yourself, you will get a ton of headroom, and this simply doesn't look good. In order to capture that million dollar face of yours, point the device a bit down ensuring that your head is close to the upper frame of the camera, not the middle. If you want to shoot a profile perspective of yourself, place your head against directly against the frame of the camera.
Tip Four: Optimizing Hardware
Getting the most out of your action cam requires altering the out-of-the-box version of it. Sure, the camera is ready to go the moment you buy it, there is a lot more you can do with. In fact, many people say that you 'don't just buy a GoPro, you buy it along with hundreds of dollars of accessories. Some of the most popular accessories are mounts, which allow you to position it in various positions. Perhaps the most popular mount is the helmet mount, which allows users to record anything they see. Other mounts include the suction grip mount, which can be attached to your snowboard, the side of your car, front of your boat or even the outside of an airplane. There are also panoramic mounts available for purchase as well. Basically the way a panoramic mount works if that it is a mount that rotates 360 degrees of a period of several minutes, allowing you to capture a full 360 degree shot. Our tip for you is that you just as easily make one yourself using inexpensive kitchen timers.
If you want to build a GoPro mount yourself, you might want to buy an adjustable bar clamp, which is available at discount stores and hardware stores. Drill a hole through the shaft for holding the GoPro mount. Try to find a bar clamp with a quick release and a hand grip. The quick release will allow you to remove the camera easily and the hand grip will ensure solid positioning of the device. When attaching mounts to the device, you can use a screwdriver to tighten the arms. While this will yield better output than tightening them by hand, this is especially necessary if your footage includes bumpy rides or plenty of movements.
If you have purchased the HERO3, you are awaiting some nice little touch. Along with a WiFi remote, the company has built dedicated apps for Android and iPhone users, which allows them to control their camera from the mobile devices. Last but not the least; try to use a tether, leash or some kind of grip while shooting with GoPro. If the suction cap or the adhesive fail for any reason, you will have a backup this way. On the topic of backups, make sure that you buy a batter backup pack as well if you plan to do serious shooting all day long.
Visit Project GoPro!!!
or
View GoPros on Amazon!!!