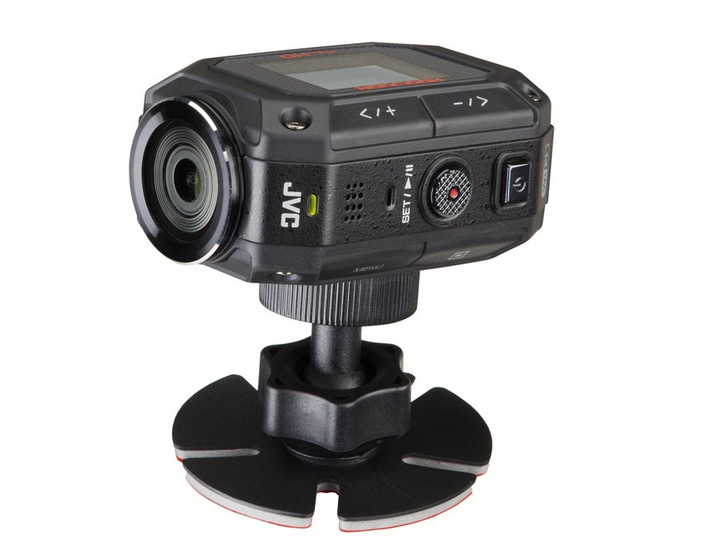 Next to staples like the GoPro HERO line, the action cam market is fragmented, competing for scraps of market share that GoPro has left over.
The JVC is far from a market leader in terms of popularity, but it is slowly gaining in popularity and is worth keeping an eye on.
The JVC Adixxion 2 – GC-XA1 is the second camera in JVC's action cam range and, as the excessively "extreme" might suggest, it comes with a design and features fit for an action sports lifestyle.
Thankfully the build of the camera is better than the name. Following are the highlights of the JVC Adixxion 2 – GC-XA2:
Design
This versatile cam has built-in waterproof capabilities of up to 5m, which is much more than most action cams, most of which are water proof only up to 1 meter without waterproof housing. It is also shockproof at drops of up to 2 meters can thus withstand all the abuse that an average, or even extreme, user might throw at it.
The cam comes with a built in LCD screen with a 1.5 inch display, though the LCD screen is not a touch screen. The screen comes equipped with rubber buttons that are used for scrolling through the menu, and the screen comes with an automatic brightness adjusting feature.
JVC ADIXXION 2 GC-XA2 Reviews on Amazon!!
Video quality
One strong feature of this camera is the fact that it can capture high speed footage. It has a frame rate of up to 50 or 60 FPS when shooting a 1080 HD, which is much faster than other cams like the Virb elite. It can do film in 720p for up to 120fps for smooth slow motion.
The ADIXXION 2 has a CMOS sensor which is 1/3.2 inch for up to 8 megapixels.  The camera is suitable even in low light and this is made possible by the 8m back illuminated CMOS sensor which makes sure that the footage comes out well even in low light. In normal light, the image quality is even better with coloration of soft color and sharpness. With the camera, one can get tie lapse frames between intervals of 0.2 and 60 seconds. On still mode, the cam is able to capture 8 and 16 megapixel images with a burst mode of 15fps at 8megapixel and 5fps at 16 megapixels. The cam also has an image stabilizer with a gyro sensor. The sensor detects any shake and makes any necessary correction if needed. This makes sure that the videos are of high quality and clarity.
Unlike many action cams, with the XA2, one can add dramatic effects to the videos. The videos can also come in different color modes which can be Sepia, black and white, vivid or negative.
Storage
Unlike other cams where the footage is recorded on a Micro SD, when it comes to the XA2, the footage is recorded on the SD card which comes with storage of up to 128GB. The common SD card is a 32 GB card which can record up to 2.5 hours when shooting a 1080 p at 60fs.
The exciting feature of this cam is that it comes with a recording setting that is convenient for use in biking or driving and allows one to record 15 second clips until you run out of storage. Once you do, the camera replaces oldest clip with the newest one.
JVC ADIXXION 2 GC-XA2 Reviews on Amazon!!
 Mounting
One disadvantage of this cam is that it does not come with many mounting options. It does come out of the box with a single head mount that can also be mounted to a car. The base of the mount has been designed such that it can mount well with convex surfaces or concave surfaces like dashboards. There's a ball joint that attaches the camera to the mount and allows one to position it in multiple different angles.
Wi-Fi connectivity
Like many cams, the ADIXXION 2 comes with built in WI-FI that allows you to easily upload files to the internet. The Wi-Fi also allows you to easily sync your camera with a smart phone.
Adixxion Sync APP
The camera comes with an APP that allows you to access your camera through a smartphone. There is a free APP for both IOS and android. The interface allows you to get a live view image, change settings of the cam as well as up streaming of videos and photos online on sites such as YouTube and instagram.
Simplicity of usage
One great feature of this cam is that it comes with six buttons to create simplicity of usage as you will have more navigating controls. Even though the control buttons are more than most POV cams and they are hard to press, they come with so much convenience. The buttons have been specifically made stiff to avoid unnecessary pressing of buttons while you are busy with activities.
Conclusion
Even though there are better competitors in the market such as Go Pro and the ion air pro, Jvc is also offering compelling products that are worth taking a look at. The XA2 is even a better make than its predecessor and thus is worth taking a look at and making a consideration. It's clearly the cam you need for your outdoor activities from the captivating features that it has.
JVC ADIXXION 2 GC-XA2 Reviews on Amazon!!
Related Links