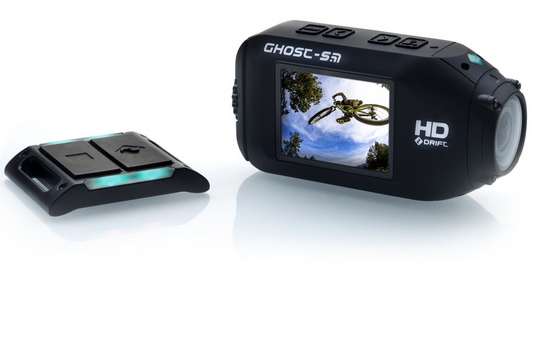 The Drift Ghost-S represents an improvement over the Drift HD Ghost and offers high quality video (60 fps at 1080 pixels), long battery life (up to 3.5 hours in 1080 pixels according to the manufacturer) and a design that, while not as pleasing to the eye's as that of the Contour line of action cams, still looks damn good.
The downside to the Ghost-S is its hard-to-remove cover over the battery and SD slot and a a menu system that is hard to navigate, but besides these inconveniences it is a solid action cam. Following is our review and why we think the Ghost-S deserves consideration.
Video Quality
The cam has a 12MP CMOS sensor that enables it to be sensitive to low light and adjusts automatically whenever needed.
With the Ghost-S you can capture different video modes at your preferred speed without a significant reduction in quality, as you can record a 1080p video at 60fps and a 720p video at 120fps. According to Drift, the Ghost-S allows you to record up to 3.5 hours for a 1080p video and even more for a 720p video. Our experience with exaggerated claims of battery life from other manufacturer's, however, means that we always take such estimations with a grain of salt.
The cam makes photography an adventure as it can do 10 or more still photos per second, which is more than most other cams on the market. It makes sure you can have fun without any interference by having a two way remote control with a range of 30 feet and a lense that rotates up to 300 degrees.
The Ghost-S also comes with a video-tagging feature that is not present in many action cams. It also features a number of recording styles ranging from normal, vivid or low light, which is a feature unique to this cam. In vivid mode, colors stand out quite well, and even in low light more there is a nice contrast.
One can highlight live video segments of up to 10 minutes and the cam has a wide field of view of up to 160 degrees. It might not be the GoPro, but the Ghost-S is still a pretty compelling action cam.
Drift Ghost-S Reviews on Amazon!!
Camera Build
The camera is compact with a bullet shaped body and only weighs 5.9 ounces which is just an average weight meaning it is neither too light nor too heavy. Its weight makes it easily mountable on mounts. Another plus of these cams that it can be mountable on all kinds of mounts even the GoPro mounts. On purchase of the camcorder, one is entitled to a goggle, flat and curved mounts which come with the camera.  The camcorder has a built in 2 inch TFT screen which give you a good visual feedback unlike many cams that don't have.
Audio Quality
Just like many cams, it comes with a built in microphone for noise reduction so that the videos have clarity. The built-in mic has three levels of sensitivity to make sure that it is very sensitive and one can adjust sensitivity according to preference.  More directional control over the audio can however be achieved by attaching an external mic on the external mic plug.
Drift Ghost-S Reviews on Amazon!!
Waterproof Ability
Unlike some cams such as the JVC ADIXXION that have strong built-in waterproof capabilities, the Drift Ghost-S is waterproof only in depths of up to 3 meters, so for those of you who are going to be spending a lot of time underwater, it is advisable that you grab some waterproof casing to protect the camera.
Built-in WiFi
Just like most action cams, the Ghost-S comes with a built-in WI FI that allows you to connect to your smartphone through an APP. Through the App, one can use their phones as a remote control which works in increasing efficiency. There is an APP for both android and iOS. Another unique feature of its WI FI is that it has a clone that allows you to connect and sync with up to 5 other Ghost-S cameras. One camera can function as a remote control and control the rest through this mode.
Drift Ghost-S Reviews on Amazon!!
Related Links