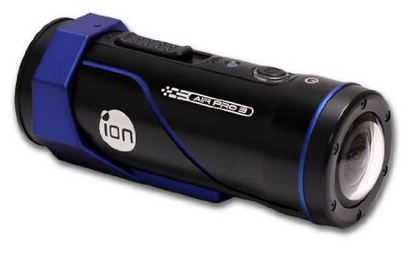 As a lover of action sports, you know what a good camera means to you. And while GoPro is the action cam category leader, there are actually A LOT of really awesome action cams from other manufacturers. iOn is one such manufacturer, and the iON Air Pro 3 is a great example of some of the overlooked gems out there in the land of action cams. Following are some of its best features:
Waterproof Without Extra Housing
The iON Air Pro 3  has waterproof capabilities built in, so there is no need to waterproof it with housing before your dive. The camera can be submerged up to a depth of 15 meters (46 feet). The Air Pro 3 also comes with a waterproof microphone that captures audio in reasonable fidelity without distortion or a lot of white noise.
iON AIR PRO 3 Reviews on Amazon!!
Lenses
The Air Pro 3 is equipped with an anti-fog lens that captures an ultra-wide field of view up to 160 degrees. The field of view can also be adjusted to the desired angle depending on your needs.
Full HD recording
The camera comes with the option of recording at a resolution of 1080p at 30 frames per second or 720p at 60 frames per second. Therefore one can do a full HD recording of up to1080p/60fps video resolution. Low light situations aren't a problem for this camera, and scenes shot in low light still come out looking good.
High Performance
It has a big time lapse and a powerful processor that has the ability to do a 10shot burst/second. It also works on 12megapixel when on a still mode. The camera contains 60fps and 120 fps setting that allows one to record any kind of motion but in a smoother way. When recording a video at 1080p or 720p at 30fps, the camera can process a secondary thumbnail video that will ensure faster playback and easy uploading to mobile devices.
Built-in Wi-Fi and Ease of Use
With the built in Wi-Fi sharing of photos is an easy adventure and can be done whenever there is need.
The Air Pro 3 comes with built-in one touch functionality, meaning that anything you need to access on the camera is just one touch away. It is intuitive and there is less of a learning curve with this cam than with a GoPro.
iON AIR PRO 3 Reviews on Amazon!!
How is the Battery Life?
In a word, it's OK. Not great. While the 2 hours and 30 minutes of juice that the Air Pro 3 gets from its 1200mAh lithium polymer battery make it about the average for most action cams, the fact that you can't remove the batteries from the Air Pro 3 is this camera's weakest point by far.
Free cloud storage
It's not a dealbreaker, but this is a feature unique to iOn's line of cameras. To share video content online, one is given free 8GB cloud storage that can be used as backup storage and sharing of files online.
Ion Pro Air APP
The camera has an app that allows you to control the camera remotely and change settings.  With the app installed in a phone one can access all the features of the cam through the phone. The App allows you to connect directly to social media networks and thus makes sharing of photos and videos very easy. The iON AIR pro App allows you to store files on the cloud. With the app you can check the battery level of the camera since it does not warn you when the battery is going down until it is at 29%.
Easily Mountable and Lightweight
Much more so than the GoPro.
The Air 3 Pro comes with a quick connect clip that is that has a lock system that makes it possible to be mounted on any kind of mount. The lower part of the camera has a standard screw hole for the tripod mount. This makes it very compatible with every kind of mount.
With a weight of only 142 grams, the iON AIR PRO 3 is the ultimate camera to carry around to all your adventures as it does not bring any inconveniences.
iON AIR PRO 3 Reviews on Amazon!!
Related Links