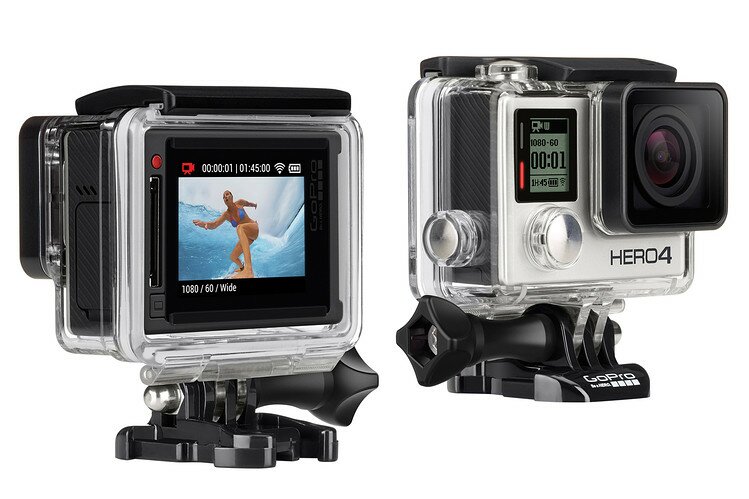 Prior to late 2014's release of the HERO4 line, the most recent iteration from GoPro had been the HERO3+ Black and Silver Editions.
The Hero 3+ comes in three editions: Black Edition, Black Edition Surf (identical to Black Edition but with a surfing mount) and Silver Edition. It is 20% lighter and 20% smaller than the most recent model, the HERO3 and battery life has been increased 30% (although it still sits at just over 2 hours, which is still our biggest complaint about GoPro products). Overall, the Hero 3+ looks to be a nice, albeit minor, upgrade to the Hero 3. For more in-depth reviews, check out any of the following links:
The Buyers Guide below will teach you which GoPro is best for you (and which ones aren't), how to decide what features you need, and how much money this will cost you.
What should I be looking for?
You feel a rush coming up from the pit of your stomach. You are nervous and excited, slightly giddy at the thought of what is coming next.
No, you aren't clubbing in Ibiza or mountain biking down Mt. Kilimanjaro- you are about to buy a GoPro.
But which one?
Whether you are a tech-speck geek who is always after the latest technology or a puzzled parent who needs a last minute gift for their child, there is plenty to learn about the GoPro.
And even if terms like "FOV" and "aspect ratio" give you the jitters, you can rest assured that there are actually only a few major things that you need to consider when buying a GoPro (don't worry, we'll be getting into them soon).
So whether you want this rugged camera for your own extreme lifestyle or for that of a loved one, the first thing to know is that you are going to want a HERO3 or HERO3+ model.
During your research, you might come across other models like the HD HERO Naked and the HD HERO 2, but unless you are a vintage camera collector, these models won't do much for you (and no, they aren't even any cheaper than newer versions of GoPros).
The HERO3 is the modern standard of the GoPro, and you can think of the HERO3+ as a remix- it's got some added features and improvements, but it's not fundamentally different than the HERO3. It's improved, for sure, but not radically different.
The HERO3 comes in three editions- Black Edition, White Edition, and Silver Edition- and each one has different capabilities and price points. The HERO3 Black Edition is the most expensive (and feature rich), while the White Edition is the least expensive (and most basic).
The HERO3+ is similar, except it only comes in two editions: Black Edition (more feature rich, more expensive) and the Silver Edition (fewer features, lower price point).
So that's it- in deciding which GoPro to buy you are essentially deciding between these 5 versions.
Below is what you need to look for.
When making your purchase, the most important things to consider will be:
Battery life: If you are going to be using your GoPro to film activities without interruption (for example, a long mountain climb) you might consider the HERO3+, which has a battery life that averages just over 2 hours (this depends on your settings), while a HERO3 battery has an average life of around 1 hour and 40 minutes.
Size: While the HERO3+ is not any smaller than the HERO3, it comes with housing (the plastic that protects the camera) that is 20% smaller. If you are engaging in an activity where size matters (no pun intended) go with a HERO3+ White or Silver Edition.
Video Quality: The HERO3+ features a new f/2.8 lens that gives sharper video than earlier cameras from GoPro. 

Sound Quality: The HERO 3+ has redesigned mics that capture more of the sound you want and that filter out more of the noise you don't. Field of Vision ranges from 127 to 170 degrees. The FOV indicates how wide an image the camera can capture.
The HERO 3 in White
It is the least expensive HERO3, and comes with a waterproof encasement capable of going as low as 160 feet underwater. The white edition of HERO3 provides a normal frame rate for shooting videos, which is ideal for directly playing on a television or computer without converting or editing. Shooting still images is possible, but there are not as many photo modes in the white edition as Silver and Black Editions.
Visit our Hero3 White Edition Review!
OR
See the HERO3: White Edition on Amazon!!
The HERO 3 in Silver
Is more expensive than the White Edition but not as expensive as the Black Edition. The HERO3 Silver Edition provides a 60fps shooting mode along with Pro Tune firmware. They provide decent quality video footage, which are perfect for everyday use, but not are as good as the black edition. The Silver Edition has a burst mode which allows a user to take up to 10 photos in only a second!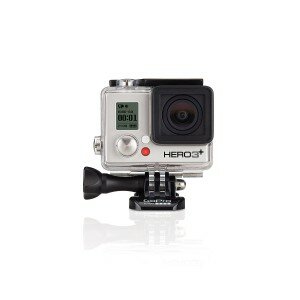 Click Here for our overview of the Hero3 Silver Edition!
OR
See the Hero3 in Silver on Amazon!!
The HERO3 Black Edition
Is the highest priced GoPro. It provides very high frame rates, which users can slow down and color correct by using an updated version of Pro Tune firmware. If you plan on regularly editing video, this is the best choice for you. A fast micro SD card along with a reasonably powerful PC will be needed for playing and editing the videos captured by the HERO HD3 black edition. The Black Edition also features burst mode, which shoots 30 still images in a second! This is yet another reason we love the Black Edition- we find it perfect for capturing the fast-pace of our lifestyles. This edition also comes with a WiFi remote control, which provides full control of the camera and makes it very convenient for situations when the camera is out of reach.
Click Here for our overview of the Hero3 Black Edition!
OR
See Hero3 in Black on Amazon!!
Which One Should I Buy?
If you want to edit your recorded videos and take a lot of still images, its worth paying the extra money for the Black Edition. The Black Edition will also sync with your Android phone or iPhone through a remote app and will capture the highest quality footage if you spend a lot of time shooting underwater footage while diving or snorkeling. On the other hand, if you don't want to bother yourself with editing videos or do not plan to take a lot of photos, you may compromise with the Silver Edition. If you are tight on budget, but still fancy a wearable camera, you may consider the HERO3 White Edition.
What Accessories Do I Need?
The short answer is, it depends on what you want to do with it. Popular activities that people capture include:
Skateboarding
Diving
Surfing
Snowboarding
Climbing
Skydiving
Racing
One of the biggest advantage of GoPro cameras is they are mountable to almost anything. The downside, is that you have to buy the mounts yourself- they typically aren't included with the camera. If you are looking for a series of Mounts, you might want to check out this Grab Bag of Mounts for HERO Cameras. If you want to use your camera for underwater recording, you should find a stable platform for your camera and the supporting light. Another thing to remember is color absorption. While you dive deeper, colors such as red will look faded, which can affect the video quality. Luckily, polar pro filters are available as a solution to this problem.
The company started using micro SD cards from the HERO3 on, meaning that, if you have bought a HERO3, you will need a micro SD card for it. All the previous models support regular sized memory cards. If you are going to buy a HERO3 black edition, make sure you are buying a micro SD card of at least class 10, which will allow you to take full advantage of the burst mode and high frame rates. Try to buy bigger memory cards. Due to the high frame rate and excellent video quality of the HERO3, you will run out of memory if you have bought a tiny one.
Remember that it might be worth it to wait for the next launch before you purchase one. After all, what is the point in buying a bunch of accessories to enhance the market's current model when you could wait a mere 3 months and buy a better product out of the box for less money than it would take you to purchase the accessories you need. As is often said, you don't just buy a GoPro- you are also committing to the extra accessories that enable people to achieve awesome things with these video cameras. That stellar footage you recently saw that encouraged you to go and buy one in the first place- yeah, we guarantee you that look was achieved using a lot more than the usual out-of-the box functionality.
Where Can I Buy one of these bad boys?
The short answer is that buying a GoPro depends on which country you are in. If you are in the US, you can use this handy Store Locator to find out the nearest place to make your purchase.
If you aren't interested in buying a GoPro but are interested in the history of the product, you will probably find our rags to riches (30 Billion!)  of the product fascinating. You might also want to check out this Wikipedia Article for more background information.
If you want to jump immediately to an overview of the most recent models, the HERO3 White Edition, Silver Edition, and Black Edition, click here.
More Information:
We built this site in order to provide you with:
Objective info about action cams
If you already own a GoPro, check out our Tips page or learn how to become a ninja here.
The First Generation
The first camera released by this company was the HERO 35mm, which was introduced on April 13, 2005. The 200g, 2.5 by 3 inch device came with a clear case, adapter lash and camera strap. It was usable on the fly and to a depth of about 15 feet underwater. Termed the reusable wrist camera, the HERO used 24 exposure Kodak (RIP Kodak) 400 film. The HERO was followed by the Digital HERO 3 in 2007, Digital HERO 5 in 2008 and HD HERO 960 in 2010. These cameras featured 3MP, 5MP and 960p shooting modes respectively. All of these are considered to be the first generation, and acted as starting points for the future HD cameras from the brand.
To Buy or Not to Buy the Original?
Our verdict is DON'T BUY unless you are a serious collector, as these film-reliant cameras are outdated in 2013.
The Second Generation:
The HD HERO Naked and HERO 2
The second generation started with the HD HERO Naked, which was the first GoPro camera to feature a 1080p mode. Released in 2012, this camera has a 5MP sensor and supports different types of mounts. The HD HERO Naked's successor is the not-so-cleverly-named HD HERO2. With an 11 megapixel sensor, the HERO2 introduced 120 frames-per-second shooting and also came equipped with low-light capability. The HERO2 is available in three different packages – Surf Edition (Surf Edition Reviews), Outdoor Edition (Outdoor Edition Reviews) and the Motorsports Edition (Motorsports Edition Reviews).
A lot of users get confused with the difference between the Surf version and the regular versions of the HD Hero2, but it is actually very simple- the only difference between these two versions is the accessories that come with them. While all of these cameras come equipped with a battery, waterproof case, mounting hardware and USB cable, the surf edition includes a larger sticky mount for easily attaching the camera to a surfboard. The surfboard mounts are also available as separate packages if you want to turn your regular version into a Surf Edition.
Buy a HERO Naked or HD Hero 2?
If you are looking to save some cash, we recommend the Hero 2 as a STRONG BUY.
If you are a collector or just looking for a serious bargain and don't need the high tech wizardry of a more modern release, this is also a great choice.
Click Here to See HD Hero2 Surf on Amazon!!
The Third Generation (The HD HERO3)
In 2012, GoPro announced the HD HERO3, which is the most powerful device of the company to date. The 25% lighter and 30% smaller HERO3 comes equipped with comes with built-in WiFi and comes in three editions- White, Silver, and Black.
To Buy or Not to Buy Hero3 Cameras?
BUY! The question is simply- which one? Below, we will give you a short breakdown of each of the three types of Hero3- in White, Silver, and Black. 
Hero3 Black Edition Epic Action: