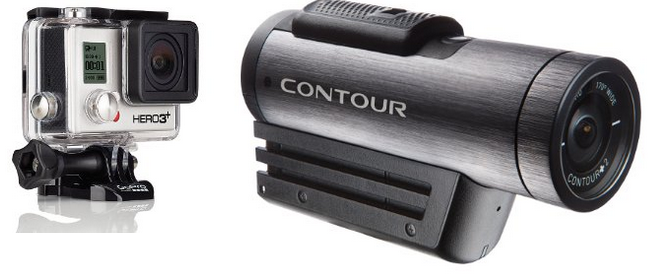 If you have been interested in Action Cams for a few years, then you have probably watched as GoPro has passed other brands left and right to become a category leader. And there is probably one name that you remember as being a casualty of GoPro's dominance: Contour. The GoPro vs Contour battle was waged for several years, and Contour made a very popular line of action cam called the Roam before closing their doors in 2013 before recently starting back up.
That's right- Contour has resurrected itself from the dead for Round 2.! This is good news for those who prefer the slick lines of Contour cams (and let's be honest, they DO look nicer than GoPros). The competition looks set to resume right where it left off, with even product names (GoPro Hero3+ vs Contour+2) seeming to reference this competition. But which brand, and which model, is a better fit for you? Read on to find out!
HERO3 White Edition Vs Contour ROAM
The first part of our battles compares the HERO3 White Edition with the Contour ROAM.
HERO3 White Edition Overview
The Good
The most affordable of the affordable of the HERO3 line
Reduced size from its predecessor, the HERO2
Part of the line that began GoPro's market dominance
The Bad
5mp lense compared to 12mp with the HERO3 Black
Complaints about buggy software common
In 2014, slightly outdated
The Consensus
A solid action cam for the money, but a little extra will get you the more up-to-date HERO3+ Silver Edition.
Contour ROAM Overview
The Good
Probably the best looking action cam on the market to date, with multiple colorways
GB microSDHC card included in package
The Bad
All changes to settings are done by with desktop software
In 2014, slightly outdated
The Consensus
At 119, a solid buy for anybody who doesn't need to change settings on the go.
White Edition Vs. Roam Comparison
For those who are familiar with GoPros, you can think of the Contour ROAM as being equivalent to the GoPro Hero3 in White, which is the starter edition in the HERO series. If you want a more feature rich camera from Contour, you'll want to check out the Contour+2. The ROAM retails for slightly less than (for comparison, the HERO3 in White is Check Amazon Price Here) and it is actually easier to find discounts for this camera than it is for GoPro discounts. And we can objectively say that the Contour is simply a better looking camera than the GoPro.
If you aren't a serious camera user and are just looking for a good starter cam, we recommend starting with the GoPro Hero3 White Edition. You'll get better support than Contour (although now that they are back in business this will likely change) and a camera is also capable of capturing 1080p 30 fps and 720p 60 fps video and 3 photos per second at 5MP.
Now, while we recommend the HERO3 White Edition as a starter, if you are price sensitive, you should consider the ROAM2, as you can probably find it at a good discount. The ROAM2 offers recording at 60 frames per second when recording at 720 pixels. An additional bonus is that it is actually waterproof, whereas the GoPro requires housing (included in its package) in order to be submerged without suffering water damage.
The Contour ROAM2 is also a much better looking camera than the GoPro. Whereas the HERO3 is square and blocky, the ROAM2 is sleek and aeroduynamic, featuring a beautiful steel finish and coming in a variety of colors (the HERO3 White Edition comes in only one color, as you'd probably guess ;))
HERO3 Black Edition Vs Contour+2
At the higher end of the market, you have the HERO3 Black Edition and its comparable model from Contour, the Contour+2. Currently, the HERO3 Black Edition is Check Amazon Price Here, while the Contour+2 is currently Check Amazon Price Here. Maintaining a lower price point seems to be a deliberate strategy of Contour, and as with the comparison between the GoPro HERO3 WHITE and the Contour Roam, for those looking for the lowest price point, Contour will be the better option here.
The HERO3 Black Edition is 30% smaller and 25% lighter than previous GoPro models and can be mounted to almost anything (with the right mounts). It can capture 48fps at 1440pixels, 60 fps at 1080p, and 120 fps at 720p. It beats the Contour+2 in that, in burst mode, it can take 30 photos per second at 12MP resolution. The HERO3 Black Edition also features much improved audio quality, which is something people complained about with earlier GoPro models. It has built in WiFi.
The Contour+2 doesn't have the diversity in image quality that the HERO3 Black Edition does, but can record in several different HD models including at 1080p at 120 frames per second. This model from Contour also has a bunch of features that the HERO 3 Black Edition doesn't, including the ability to preview footage on your smartphone as in real time as well as a GPS receiver. While the Contour+2 is itself a waterproof camera, it comes equipped with a waterproof case that can be used up to 60 meters (180 feet).
Who is the Winner?
If you are concerned with the look of your action cam, go with a Contour- they simply look better. And if you are price sensitive, a model from Contour (the ROAM on the lower end and the Contour+2 on the higher end) is probably the right choice for you. If you do not fall into one of these two categories, then get a GoPro. At least for now, GoPro remains the undisputed category leader because of quality of product, and we need to see more offerings from the resurrected Contour before becoming huge advocates of the brand. But don't count Contour out, especially now that they have been resurrected!
GoPro VS Contour Epic Action
For Gopro Alternatives Worth Looking at, click here
For Best Action Cam, click here
For how to get the cheapest GoPros, click here
For GoPro Coupon Codes, click here