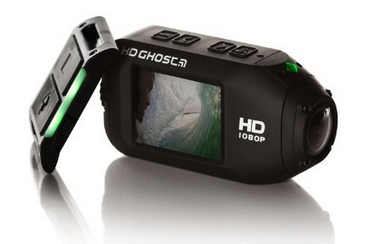 Our vote for seriously underrated action cam goes to the Drift HD Ghost. Here is why:
Ultimate Design and Sophistication
It has been made in a unique compact design with sophistication. It has a 2 inch gorilla glass protected LCD screen that has been made out of a high quality material that makes the camera to be very stylish and long-lasting. The screen can be used as a live view in changing the settings of the camcorder and changing the footage unlike many cams where this is only possible with a laptop, tablet or smartphone.
Drift HD Ghost Reviews on Amazon!!
Waterproof Ability and Videotagging
With the Drift HD Ghost video sharing is more fun as the camera has a video tagging feature that allows you to tag your videos as you share them.
The camera has been of a tough high quality material that has a waterproof ability of up to 3meters or 9 feet which means you can go for all your watersport activities without any worries. In case one wants to go for water activities that involve deep waters then one can get a waterproof casing to protect the camera.
Remote Control and Drift APP
The camera comes with a 2 way remote control that brings so much convenience since controlling of the camera is a button away. Drift Ghost makes sure that you are able to enjoy your activities while remote controlling your camera. The remote can be worn on the wrist strap that is provided and can be charged using a USB cable.
The Drift Ghost has an app that allows you to access the camera through a smartphone. With the app, one can access the photos and videos and do controls to the preferred taste. The app also allows you to easily share your files to social media network. The drift app can work on android and iOS enabled phones.
Drift HD Ghost Reviews on Amazon!!
Ultra-wide Lens
The camera has a three way ultra-wide lens with a field of view of 170 degrees to make sure that as much content as possible is captured. With that field of view, the focus is from 0.5meters to infinity.
Up to 300 Degrees of Rotation!
The fact that the cam has a rotating lens of up to 300 degrees which is higher than most cams mean that it is the ideal camcorder for most activities as it can be mounted on any angle and is able to capture the required content.
Extra-long Battery Life (Up to 3 hours)
Unlike m any cams, when it comes to the Drift Ghost one can go on with their activities without worrying about the charge as it has an extra-long battery life of up to 3 hours which allows you to capture a lot of content.
High Quality Video Recording
Fitted with a 12megapixel BSI CMOS sensor, one is assured of high quality video even in low light. One can record mp4videos at 1080p at 25/30/48 fps or 96op/720p at 25/30/50/60fps or WVGA at 25/30/50/60/100/120 fps. The camera gives you the opportunity to do a video compression of up to 35Mbps. Unlike other cameras, the drift HD as unique scene modes of either normal, vivid or low light scene modes. This makes editing an adventure while giving videos with the right detail.
Mountability, Bro
The Drift Ghost cam has a quick connect the clip that makes it easy to mount the camera giving you many mounting options. It comes with three flat sticky mounts to clip the camcorder so that it can be mounted on several objects without having to move the mounts. The Drift Ghost also comes with a mount for surfaces that are not flat. On the bottom of the camera, there is a tripod screw mount which is standard to support the camcorder and lower the center of gravity so that one can be sure whatever they are capturing is being captured in the right way.
Built-In Wi-Fi
The Wi-Fi on the Ghost makes sharing epic action with friends quick and easy.
Ease of Use
Apart from the remote control and drift app, the Drift Ghost has buttons on the side that one can press to start or stop recording. One the upper part of the camcorder is a series of four push buttons for accessing all the features and controls. It has been made with the ultimate simplicity so that it is easy to use. It also comes with a manual that gives directives on the usage of the camcorder.
Built-in Mic
The camera comes with a built in microphone to allow capturing of high quality audio even though it is mono. For a higher quality, there is a port for an external jack for external microphones.
Drift HD Ghost Reviews on Amazon!!
Related Links