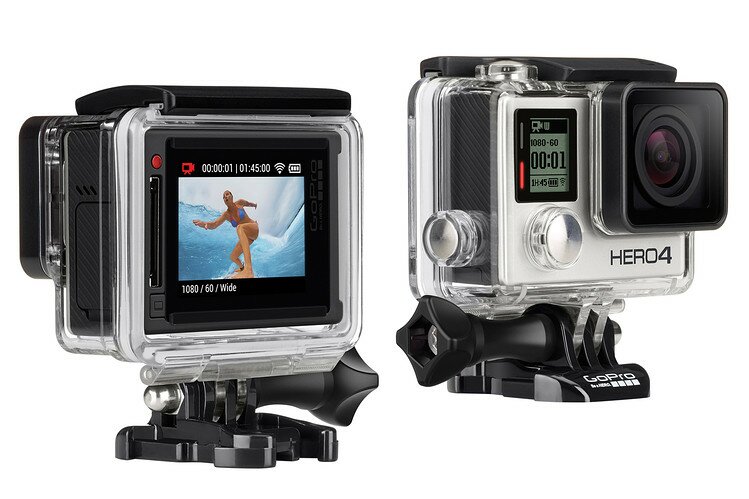 The GoPro Hero series has now hit its 4th generation, and what it brings is a virtual overhaul of the series.
Twice the power and new features are among the improvements to what was already considered one of the best in its field.
The Good
Ultra-high video resolution quality of 4k at up to 30fps
Protune – Now for video & still image
Waterproof up to 40m
The Bad
No LCD screen on black edition
Battery life is still a major issue
Images still a little dark despite claims of improvements
The Consensus
Both the GoPro HERO4 Silver & Black Editions are an improvement on their predecessor.
The real question you have to ask yourself when choosing between them is whether you will
actually need the 4k 30fps video option, or if you'd rather have a rear touchscreen.
Aside from that issue there really isn't any major difference between either model.
120 minutes (approx)
Very Good
Audio quality is Good
Wifi + Bluetooth enabled
HERO4 HD Black Edition on Amazon!!
HERO4 HD Silver Edition on Amazon!!
Hardware and Design


Look, we know how GoPro does it by now.
They simply aren't the best looking action cams on the market. That honor goes to Contour.
The exterior of the HERO4 isn't all that different from its predecessor, the Hero 3+ when you see it from the front. The size and weight is pretty much the same, the colour scheme isn't all that different. Turn the HERO4 silver edition around though and you'll notice a major difference and an LCD touch screen.
That's right, the HERO4 Silver Edition is the first of the GoPro range to feature an integrated touch display. At this point I should probably point out that the Black edition doesn't feature a touch display. The reason? According to GoPro themselves the heat generated by the black editions 4k/30fps capabilities would have caused issues. The LCD BacPac is still an option though, at extra cost obviously.
The screen is the only real physical difference between the models, but there are a couple of small changes that separate the HERO4from previous models, including the battery size and design. It no longer slides into the back but rather into the bottom. The change in battery design means that if you're upgrading from the Hero 3 range you'll need to purchase new spare batteries.
The Wifi button on previous models has been replaced with a single settings button, and while it takes a bit of getting used to for those coming from earlier models, the UX and nav are much improved overall.
The HERO4 will of course continue to feature electronic video stabilization capability and will also come with MCTF ( motion-compensated temporal filtering), a feature which cleans up image quality.
Video and Image Modes
The HERO4 boasts video capabilities of up to 4k, 30fps on the black model, and 4k, 15fps on the silver. Both models shoot in beautiful 1080p and 720p, with a frame rate of 60 and 120 respectively. When it comes to shooting video the HERO4 has you covered. As far as still images go, it offers 12mp high quality images with a continuous burst-rate of up to 30fps.
HERO4 HD Black Edition on Amazon!
HERO4 HD Silver Edition on Amazon!
Performance
Boasting a processor that is twice as fast as that of the Hero 3 range, and video frame rates that
have been doubled it's safe to say that the HERO4 range is an improvement on the Hero 3. The black edition is quite simply the most advanced GoPro camera ever. The 4k 30fps option produces exceptional, professional quality results. Stunning clarity and really
smooth slow-motion playback.
One setback of such a high quality option is the toll it takes on both your memory card and the battery. Using the 4k 30fps option will see a fully charged battery last just over 60 minutes with the wifi option turned off. With wifi enabled you're looking at roughly 50 minutes. A 16GB memory card has been reported to record around 30 minutes of 4k  footage, which isn't a lot, so make sure you come prepared if you plan on pushing your HERO4 black to the max. A new HiLight tag function has been introduced to both models, enabling you to bookmark a particular moment in your recording at the touch of a button. This allows you to jump straight to that moment in post-production.
When it comes to recording at night or in less than ideal lighting conditions the new Night Photo and night Lapse modes are a welcome feature, even if the reports I'm getting are that some people still consider their recordings to be a little dark. The option is an improvement on previous models, that much is for sure.
Battery Life, Wi-fi, and Other Features
This is the question on everyone's mind, so it deserves it's own section. As far as we know, battery life will not be improved in the HERO4. Sadface.
For all of the excellent new additions to the HERO4, it still has to be said that battery life is an issue. It can vary between as much as 120 minutes in certain shooting modes, all the way down to less than 60 minutes in others. Obviously this is far from ideal, but I'm not too sure that much can be done when it comes to powering a camera that can shoot in 4k 30fps. Whichever way you look at it, that kind of performance is always going to require a fair amount of power.
Both models come with a built-in wifi and bluetooth feature, allowing you to connect wirelessly with the GoPro app, turning your  smartphone or tablet into a remote control, giving you control of all functions and settings.
With the remote viewfinder playback, you can live stream what is being recorded by the camera, and you can now finally tag important moments so that you don't need to review dozens of minutes of footage to find the good stuff.
Accessories
The accessories available for the HERO4 range are varied and cover pretty much every situation you could find yourself in. LCD touch BacPac for the silver edition, battery BacPac, smart remote, extra batteries, blackout housing, protective lenses and covers and so on. These are also widely available, and all priced pretty reasonably.
Conclusion
The question isn't really whether you should buy a HERO4. If you're reading this review the chances are that you probably need and want one. The question is, silver or black? This can be answered with one simple question. Do you prefer the idea of a touch screen option? Or the ability to shoot in 4k at 30fps? With the HERO4 Black coming in at anything up to 100 more than the silver option, I'd say that unless you're deadly serious about the quality of your recordings being at a professional level you're most likely better served with the silver model. The added option of the built-in touchscreen will sway most people.
You don't get features like the ones listed above without paying for them.
Currently, the HERO4 Black is priced at 499 on Amazon, and the HERO4 Silver is going for 399.
The good news for those who just cringed when they read those prices is that GoPro is also rolling out a confusingly-titled model, The Hero, for just 130.
HERO4 HD Black Edition on Amazon!
HERO4 HD Silver Edition on Amazon!
Related Links