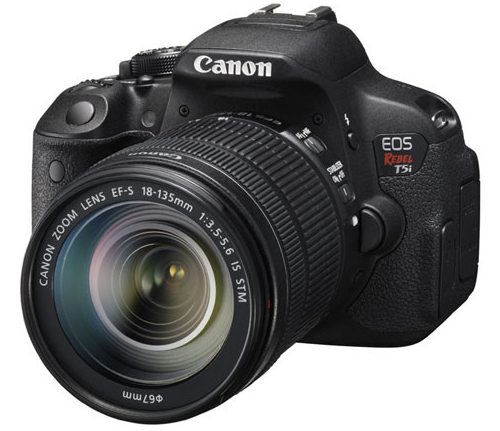 While the Canon Rebel series pioneered affordable DSLR cameras, their recent efforts in the series have lagged, and with the new EOS Rebel T5i appearing on the scene so soon after its predecessor the T4i, has there been enough of an upgrade to warrant making the jump?
Read our review below to find out!


Canon EOS Rebel T5i Reviews on Amazon!!
The Good
18.0 Megapixel CMOS (APS-C) sensor
DIGIC 5 Image Processor
Better light sensitivity with ISO 100-12800 that is expandable to 25600
3 inch touch screen facility
EOS Full HD Movie mode with Movie Servo AF
The Bad
Movie option added to power switch can cause selection issues
Default dynamic range falls behind others in its class
Not a lot of improvement from the T4i
The Consensus
The competition has surpassed the Rebel in some key areas, but it remains a solid DLSR that doesn't do much to improve on its predecessor. That said, it is still one of the leading entry-level DLSR cameras on the market and should appeal to anyone looking to make the jump.
The Essential Details
Battery Life: 440 (CIPA Rating)
Image quality: 18 megapixels
Audio quality: is average
Wifi is: not available
Hardware and Design:
As a continuation of the Canon Rebel series, we don't really see much of a variation from the basic template seen in previous Rebel releases, and many of the features that were added to the short-lived Rebel T4i have been carried over to the T5i. Among them include the slightly restyled buttons and the enlarged thumb rest at the rear, as well as the touch screen (the T4i was the worlds first DSLR to incorporate such a feature).
One major addition to the design of the T4i/T5i is the movie option which has been added to the power switch. Whilst a good idea in theory, this now presents the issue of pushing past the on position directly into movie mode by accident which isn't ideal, especially if you're shooting an image that is time-sensitive.
The body of the camera is created from stainless steel and polycarbonate resin with glass fiber, helping to minimise the weight to 575g (including memory card & battery), and features a new textured finish, which differs from the smoother finish on the T4i.
The grip, thumb rest and sides of the camera have a rubber finish, which allows for better and more secure handling and all buttons are clearly labelled and not difficult to locate.
Another minor change from the T4i occurs in the placement of the stereo microphones, from the front section of the top plate to just above the hot shoe, and the mode dial now being capable of turning 360 degrees.
Aside from those differences, anyone with a working knowledge of the Canon Rebel series will have no problem transitioning to a T5i from an earlier model, and for those who are completely new to the series, Canon have retained the design and feel that makes the Rebel series an ideal starting point for amateur and novice photographers alike.
Video and Image Modes:
The 18.0 megapixel sensor used in the T5i is similar to that of the T4i, allowing for a standard ISO range of 100-12800 (although some users have experienced some slight noise from 3200 upwards in some situations). A dual layer metering system does a pretty good job, managing to deal with high-contrast conditions better than a lot of other cameras in a similar price range, and the auto white balance feature manages to handle both natural and artificial light pretty well.
A major improvement that both the T4i & T5i have over the earlier models comes courtesy of the new Digic-5 processor. The T5i boasts a top burst speed of 5fps, far superior to the T3i's top speed of 3.7fps. The Digic-5 processor is six times faster than the Digic-4 which is found in earlier models, providing a much quicker response rate when it comes to processing and noise reduction.
When it comes to shooting video, the T5i, much like its predecessors in the Rebel series, is far superior to a traditional point & shoot. Although, just like when shooting images, the quality of your lens plays a part, so you'll find the T5i video to be smoother, cleaner and sharper than a standard point & shoot camera.
Traditionally, there has been an issue with focus when it comes to shooting video with a DSLR, but the T5i has seen some major improvements to the autofocus system, thanks to the hybrid CMOS sensor, which allows for continuous auto-focus. Users should find the autofocus system in movie mode to be both faster and more responsive to movement than previous Canon releases.
Video can be recorded in premium quality 1080p resolution, and the built-in microphone allows for good quality stereo sound recording.
This 18 megapixel DLSR can capture images in the following width to height ratios:
1:1
4:3
3:2
16:9
Maximum resolution is at  5184 x 3456 but it can also do 5184 x 2912, 4608 x 3456, 3456 x 3456, 3456 x 2304, 3456 x 1944, 3072 x 2304, 2592 x 1728, 2592 x 1456, 2304 x 1728, 2304 x 2304, 1920 x 1280, 1920 x 1080, 1728 x 1728, 1696 x 1280, 1280 x 1280, 720 x 480, 720 x 400, 640 x 480, 480 x 480. Shutter Speed can be as fast as 1/4000 of a second and can also go as long as 30 seconds. Movie resolution and frame rates are 1920 x 1080 (30, 25, 24 fps), 1280 x 720 (60, 50 fps) and 640 x 480 (30, 25 fps).
Canon EOS Rebel T5i Reviews on Amazon!!
Performance
One of the main stand-out factors on the T5i when it comes to performance is the touch screen facility. Having the ability to focus on a subject at the touch of your finger is a nice feature to have, and although it won't be suitable for all shooting situations, it will come in handy and will become second nature.
The screen is responsive, similar in many ways to the screen on a smart phone and suffers from very little lagging when moving between options and menus. A small criticism would perhaps be the second or two it takes for an image to render after selection, but again, this is a small issue for most people.
The T3i's standard focusing system was more than acceptable, but it has to be said that the all-cross type system that was introduced to the T4i model and which has been retained on the T5i is far superior. A cross type system is basically two sensors in one, able to detect both horizontal and vertical lines, making it twice as likely to be able to focus on your subject.
As mentioned previously, the Digic-5 processor has been carried over to the T5i, bringing with it superior performance in image capture, processing and noise reduction.
Battery Life, Wi-fi, and Other Features
Battery life is slightly less than standard at only 440 shots per charge.
WiFi also needs to be added in future models.
Accessories and Mounts
EOS Rebel T5i Body
EF-S 18-55mm f/3.5-5.6 IS STM lens
Eyecup Ef (not shown)
Battery Pack LP-E8
Battery Charger LC-E8E
Wide Neck Strap EW-100DB IV
USB Interface Cable IFC-130U
EOS Digital Solution Disc & Software Instruction Manual CD
Camera Instruction Manual (not shown)
Conclusion
The Canon T5i is a solid if unspectacular entry level DSLR. If you're looking to shoot quality HD video, then you'll appreciate the hybrid CMOS processor that the T5i offers, allowing for continuous autofocus whilst filming.
The 5 fps (frames per second) shooting speed and the smart phone-like touchscreen allowing for touch based autofocus, will also appeal to those who are relatively new to the DSLR market.
One thing I would point out is the severe lack of difference between this model and its predecessor, the T4i. If you own a T4i then there really is nothing here that would make you want to upgrade.
Canon EOS Rebel T5i Reviews on Amazon!!
Related Links