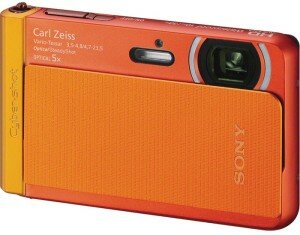 For such a slim and fashionable camera, the Cybershot DSC-TX30 is surprisingly well-equipped to handle tough conditions. For example, it can function for up to an hour at a depth of 10 meters underwater. It also defends itself against dust and dirt, and has been droptested at a height of 1.5m and survived that just fine.
Has your adventure taken you somewhere a bit nippy?  No worries! The TX30 can withstand temperatures as low as -10°C. Of course, capturing high quality pictures is also a priority and with 18.2 effective megapixels, the TX30 is better than most of the cameras in its class. Crisp image clarity is made possible with the powerful Exmor™ R CMOS sensor, which uses back-illuminated technology to allow you to capture sharp, low-noise pics and movies even in dimly lit places.
The Good
It is sleek, sexy, and waterproof to a depth of 10 meters.
Defends against dust partly because of its watertight construction.
Cold temperatures, even at -10°C, do not affect it.
Dual Record function allows you to capture video and still images at the same time.
18.2 effective megapixels with Exmor™ R CMOS sensor
The Bad
Touch screen can't be used underwater.
Display can be difficult to see under bright outdoor conditions.
GPS features non-existent.
Finer details become smudged at low ISOs
The Consensus
The TX30 is a sexy camera that is loved by those who value sophisticated looks and a compact package that delivers images in astounding clarity. It may not be the toughest waterproof cam on the block but very few can compare with its classy looks and quality of image.
Sony Cybershot DSC-TX30 Reviews on Amazon!!
Hardware and Design:
The design is largely taken from the T-series models. Made of metal with virtually no plastic at all, the TX30 is thin and lightweight. The Carl Zeiss® Vario-Tessar® Lens produces top notch photos and is equipped with a 5x optical zoom backed with Optical SteadyShot (Active Mode), which enables you to capture blur-free images and videos, even when in zoom mode. You can also supersize tiny subjects in crisp clarity with macro, magnifying images up to 15x. The camera is also smart because it can automatically select the optimum shooting mode from a choice of 16 shooting settings.
Video and Image Modes:
Taking a 3D still image is probably a feature that sets it apart from the rest. It will shoot stills in the following modes:
18M (4,896 X 3,672) 4:3 mode
13M (4,896 X 2,752) 16:9 mode
10M (3,648 X 2,736) 4:3 mode
5M (2,592 X 1,944) 4:3 mode
2M (1,920 X 1,080) 16:9 mode
VGA (640 X 480) 4:3 mode
Sweep Panorama 360 (11,520 X 1,080)
Sweep Panorama HR (10,480 X 4,096)
Sweep Panorama Wide (7,152 X 1,080 / 4,912 X 1,920)
Sweep Panorama Standard (4,912 X 1,080 / 3,424 X 1,920)
3D Still Image : 13M (4,896 X 2,752) 16:9 mode
For movie modes:
AVCHD – 1,920 X 1,080 (24M, FX)
AVCHD – 1,920 X 1,080 (17M, FH)
AVCHD – 1,440 X 1,080 (9M, HQ)
AVC MP4 – 1,440 X 1,080 (12M)
AVC MP4 – 1,280 X 720 (6M)
AVC MP4 – VGA / 640 X 480 (3M)
Perhaps another feature that is unique would be the ability to shoot still images while recording a movie.
Sony Cybershot DSC-TX30 Reviews on Amazon!!
Performance:
The TX30 is quick to focus, which is sometimes an issue in low light conditions but it manages to shine in this regard. The fact that it is 18MP just goes to show that when it comes the the megapixels, the rest are trailing behind. Sony dominates this realm and it is seen in the TX30. It is not the toughest but it is still pretty rugged for such a stylish and sleek camera. It captures excellent video and sound is caught in stereo.
Battery Life, Wi-fi, and Other Features:
Battery life is short lived with only 250 shots or 125 minutes of runtime. WiFi and GPS are not present and it could be better if it had. It is equipped with Face Detection, Grid Line, 3D Viewing Mode, Wind Noise Reduction and more.
Accessories and Mounts:
Supplied
Rechargeable Battery Pack(NP-BN)
10/AC Adaptor(AC-UB10/UB10B/UB10C/UB10D)
8/Micro USB cable
Wrist Strap
Instruction Manual
Optional
Tripod Receptacle
Conclusion:
The weekend adventurer can have lots of fun with it but it will leave the serious adventurer wanting more. Its stylish looks might be its biggest draw and serious adventurers like underwater photographers and GPS aficionados might want to look elsewhere.
Sony Cybershot DSC-TX30 Reviews on Amazon!!
Related Links