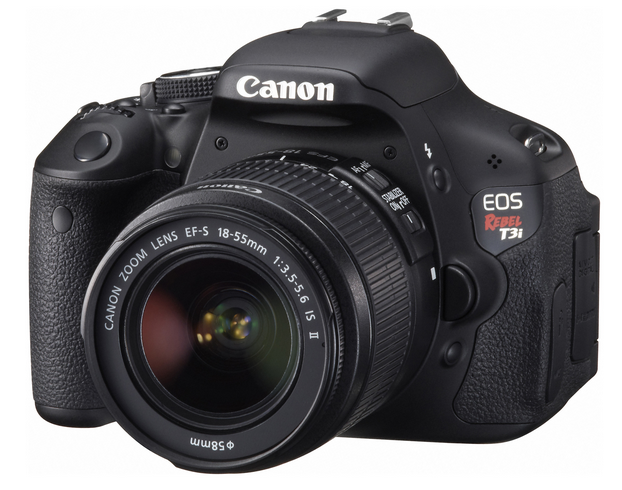 The EOS Rebel T3 set the standard for the T3i, and comes with its own set of beautifully simple features that make it a loved DLSR by many. From its 12.2 MP lense to its DIGIC 4 image processor to its HD quality movie recording, it has all the basics covered and then some. It is truly good enough for an experienced photog and a great entry level camera for anybody looking for their first DSLR.
The Good
12.2 Megapixel CMOS sensor and DIGIC 4 Image Processor
Enhanced metering with 63-zones
1280 x 720 movie recording at 25fps
Dust Deletion Feature
The Bad
Lacking the standard features of others in its class
Cheap feel to the plastic exterior with little grip areas
Cheap feel to the plastic exterior with little grip areas
The Consensus
The ease of use of the Rebel T3 is unmatched by other cameras in its class.
It honestly doesn't look as good as some of the others in its class, but when it comes to cameras, beauty really is on the inside.The reliable technology of the Rebel T3 means that novice and expert alike will have a lot of fun with it and can expect it to perform flawlessly.
Canon EOS Rebel T3 Reviews on Amazon!!
Hardware and Design:
It is pretty compact at 5.1 in (W) x 3.9 in (H) x 3.1 in (D) which is great for novice users who will be quite familiar with its similar size to the point and shoot cameras that they are ost likely use to.
The weight doesn't take much of an adjustment from a point and shoot camera either, as its plastic body weighs only 17.4 oz. (body only). it's controls are also very intuitive and even first time users will find that they are able to master it quickly.
Video and Image Modes
This bad boy captures HD quality movies at 1280 x 720 at 25fps. The Image Format is great at 22.0 mm x 14.7 mm, as well as Shutter Speeds 1/4000 to 1/60 sec., and X-sync at 1/200 sec.
Image size
12.20 Megapixels (4272 x 2848)
6.30 Megapixels (3088 x 2056)
3.40 Megapixels (2256 x 1504)
2.50 Megapixels (1920 x 1280)
0.35 Megapixels (720 x 480)
12.20 Megapixels (4272 x 2848)
Performance
The Rebel T3 comes with all the features that you have come to expect from an entry level camera and then some. It even captures audio, which other cameras in its class do not.
One downside is that the T3 does not have an auto-cleaning image sensor, but it does compensate partially for this by having a dust deletion feature.
Canon EOS Rebel T3 Reviews on Amazon!!
Battery Life, Wi-fi, and Other Features
Battery life is among the best in its class, with around 800 shots per charge, but expect WiFi and other advanced features to be non-existent as this is an entry level camera.
Accessories and Mounts
EOS Rebel T3 Body
EF-S 18-55mm f/3.5-5.6 IS Type II Lens
Eyecup Ef (not shown
Wide Strap EW-200DB
Interface Cable IFC-130U
Battery Pack LP-E10
Battery Charger LC-E10
EOS Digital Solution Disk and Instruction Manuals "Great Photography is Easy" Booklet and "Do More with Macro" Booklet (not shown)
Conclusion
This is a starter DLSR that looks and feels cheap because of its plastic exterior. Don't let the outside fool you however- it is a great entry level DSLR that is easy to use and will be loved by novices and more experienced photogs alike.


Canon EOS Rebel T3 Reviews on Amazon!!
Related Links