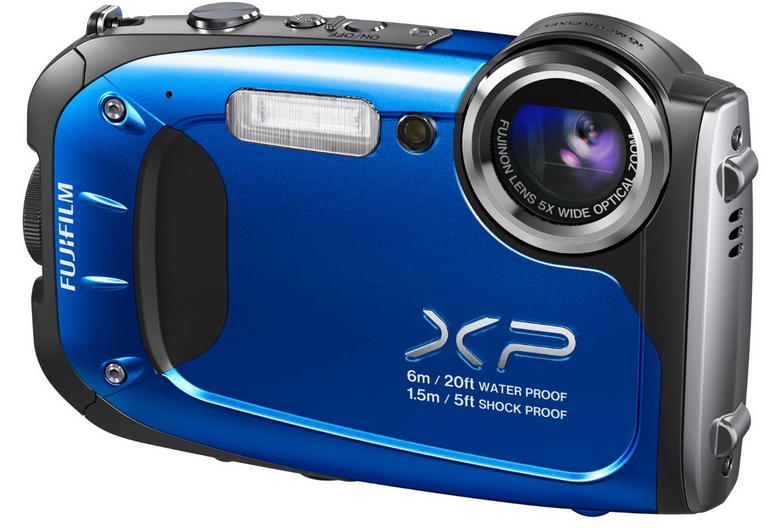 The Fujifilm FinePix XP60 comes equipped with a 16MP lense (about average for this category of camera) and is a solid buy for somebody who doesn't need GPS or WiFi in their waterproof cam. It is waterproof up to depths of 6 meters (20 feet ), shockproof when dropped from a height of 1.5 meters (5 feet), freezeproof  to cold weather at 14°F or -10°C and dustproof.
Using the FinePix XP60, one can capture full HD (1,920 x 1,080-pixels) and it has a maximum frame rate of 240 frames/second, meaning you can capture everything that passes in front of the camera.
The Good
4-way Protection – Waterproof (6m or 20ft), Shockproof (1.5m or 5ft), Freezeproof (14°F or -10°C), and Dustproof
16M CMOS Sensor – High Resolution
Full HD (1,920 x 1,080-pixels)
Max Frame Rate of 240 frames/second
LCD with an Anti-Reflective Coating
Built-in charger
The Bad
Short Battery Life
Could be slimmer- feels a bit bulky
Buttons will feel a bit small to those who have small fingers
The Consensus
The FinePix XP60 is great value for money packaged in a strong and reliable unit that takes good pictures. The pictures aren't the highest quality, but they are good enough for most people's purposes. We say good enough because they lack noise reduction and don't offer the highest quality of image. Its battery life is not as good as others in its categories, and an upgrade to bigger buttons would be a welcome change.  Although a minor aspect, the built-in charger is a nifty feature that is liked by many.
Fujifilm FinePix XP60 Reviews on Amazon!!
Hardware and Design
The camera is slightly on the bulky side at 104.1mm (W) x 66.5mm (H) x 26.3mm (D) / 4.0in. (W) x 2.6in. (H) x 1.0in. (D) and weighs in at 6.4 ounces with its memory card and battery in and 5.8 ounces without them.
Its design is stylish with a touch of class, but it isn't a particularly rugged waterproof cam. The buttons are conveniently located but are a bit on the small side, but can be hard to manipulate when your hands are wrapped in gloves. Bigger buttons would definitely improve the user experience.
Video and Image Modes
The FinePix XP60  features 16.4 million pixels and a CMOS sensor that enhances dark scenes to result in bright and high-quality images. Its Optical Sensor-Shift Image Stabilization reduces blur. There are also 14 Scenes in the AUTO mode to ensure the optimum camera settings are used to get the best images.
File format:
Still Image – JPEG
3D – MPO
Movie – H.264(MOV)
Still Image Quality:
L : (4:3) 4608 x 3456 / (3:2) 4608 x 3072 / (16:9) 4608 x 2592 / (1:1) 3456 x 3456
M : (4:3) 3264 x 2448 / (16:9) 3264 x 1836
S : (4:3) 2048 x 1536 / (16:9) 1920 x 1080
Movie Quality:
1920 x 1080pixels / 1280 x 720pixels (60frames/sec.) / 640 x 480pixels (30frames/sec.)
Performance
The FinePix XP60 looks quite nice but its battery and buttons could use an upgrade. A longer battery life means more action can be captured but its current runtime is not too bad. Bigger buttons would offer an improved user experience and the sound that the camera offers is unremarkable.
Fujifilm FinePix XP60 Reviews on Amazon!!
Battery Life, Wi-fi, and Other Features
This camera doesn't offer WiFi or GPS but it comes equipped with MyFinePix Studio, an image viewing software that allows you to manage, view and print images. You can also upload images and movies to social networking services.
Accessories and Mounts
Supplied:
Li-ion battery NP-45A
AC Power adapter
USB cable
Hand strap
CD-ROM
Owner's manual
Optional:
Battery charger BC-45W
FINEPIX REAL 3D V3
Float Strap FS-FXZ33
Conclusion
The FinePix XP60 is a good mix of toughness and good looks along with pretty solid performance. Provided you don't need WiFi and GPS, this can be a great choice for you.


Fujifilm FinePix XP60 Reviews on Amazon!!
Related Links