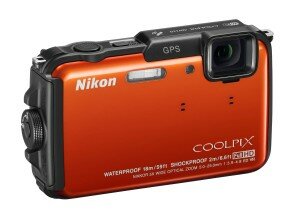 We have probably all had an electronic that has fallen victim to the elements, be it sand, snow, or water. However, for all the havoc that Mother Nature can wreck on our precious pieces of tech, the Nikon Coolpix AW110 can probably withstand the worst of it. Accidental exposure to water is probably the number one reason why electronic device might break down, but it the AW110 this is not an issue. In fact, you can even submerge it down to a depth of 59 feet. The cold does not bother the AW110 either and it can still perform well in weather as low as 14° F.
In fact, don't even worry about dropping the AW110, as it can absorb up to a 6.6-foot drop. Shoot still images at 16 MP or take video at 1080 full HD with Stereo sound, this camera can do a lot and in rugged elements to boot. Following is the good and the bad…
Nikon Coolpix AW110 Reviews on Amazon!!
The Good
The Good:
It is a waterproof camera that can go diving with you to a depth of 59 feet.
Cold weather camera that can perform in cold weather as low as 14° F.
Drop tested at a height of 6.6 feet… The result? No impact on performance.
GPS goodies that enable mapping and more.
The Bad
Chunkier than others in its class.
Traditional top-corner lens.
Memory card and battery compartment are not the easiest to open.
Display hard to see in bright conditions and underwater.
The Consensus
Most people will like it for the features it has but Nikon has yet to release a truly revolution waterproof camera. But for most people, this is probably just fine- they don't need revolutionary, they just need good enough. And the average adventurer will find that they have lots of fun with the AW110; divers and GPS freaks (geocachers) will love this camera.
Hardware and Design:
Don't let its rear plastic exterior panel fool you into thinking this is a weak camera. One may think that it was incorporated to save on weight but Nikon did not sacrifice on strength. Imagine that if it can go down to 59 feet which is about a few meters farther than the other cameras in its class, you can bet it is a strong camera. The CMOS Sensor is OK but falls behind some of the other cameras in the market. Though it has 3" OLED display it is only bright indoors and fails for the most part when outdoors and underwater. The controls are cluttered and at time difficult to locate but I suppose in time you will get to know them like the back of your hand.
Video and Image Modes:
Still images can be captured in 4608 x 3456 at 16 MP and it uses a 1/2.3 in. CMOS image sensor. The Coolpix has a 5x optical zoom and it can go up to 4x in digital zoom mode. Exposure metering can be set to Matrix, Center-weighted and Spot (digital zoom 2X or more). Scene Modes are preset for best exposure such as Back Light, Beach, Black and White Copy, Close Up, Dusk/Dawn, Easy Panorama, Fireworks Show, Food, Landscape, Museum, Night, Landscape, Night Portrait, Party/Indoor, Pet Portrait, Scene Auto Selector, Snow, Sunset, 3D Photography and Underwater.
Movie Modes:
Full HD: 1920x1080p / 30fps
HS 1920×1080/ 15fps
HS 1280×720/ 60fps
HS 640×480/ 120fps
iFrame® 540: 960×540/ 30fps
Movie file format: MPEG-4 AVC H.264
VGA: 640×480
Nikon Coolpix AW110 Reviews on Amazon!!
Performance:
More like a basic point and shoot camera that is on steroids to make it tougher, that's how I would like to think of the Coolpix. Things have been preset to make it the easiest camera to use, the downside here is, if you are the kind of user who prefers to have it his/her way instead of a preset setting, you won't like it. For the guy/gal who would rather concentrate on the adventure rather than how the photo/movie is captured, there is much to be desired. It snaps pictures well for the most part but it can be slow on others. This is comparable with other cameras in its class, so its OK. Underwater shots are a little more on the bluish side and that is uncool. The pictures are mostly bright, sharp and colorful
Battery Life, Wi-fi, and Other Features:
The AW110 is powered by an EN-EL12 Rechargeable Li-ion Battery which is recharged in as little as 2 hours 30 minutes and on a full charge the camera can be used for as many as 250 shots. WiFi is also a built-in feature that enables you to share your photos and movies to a compatible smartphone, tablet or any WiFi device. Once there you can start sharing.
How does the battery life compare to other action cams? Does it have wifi built in? Does it come with any apps and what do people say about them? Does it sync with other action cams?
Accessories and Mounts:
Supplied
AN-CP23 Strap
EN-EL12 Rechargeable Battery
MH-65 Battery Charger
UC-E16 USB Cable
Optional
EH-62F AC Adapter
EG-CP16 Audio Video Cable
BU-2
UR-E25 – Filter Adapter
AW100/AW110 Silicone Case (Blue)
AW100/AW110 Silicone Case (Orange)
AW100/AW110 Silicone Case (Black)
Floating Strap
Extended Service Coverage (2 Years) for all COOLPIX Cameras
COOLPIX AW Sport Case
Conclusion:
For a point and shoot that is tough and you can rely on, the AW110 from Nikon is a good choice. Image quality is what you would expect from Nikon but the controls are slightly off and the display is hard to see. It can get better but its OK
Nikon Coolpix AW110 Reviews on Amazon!!
Related Links