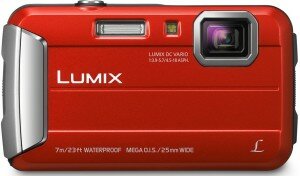 For such a casual looking camera, you wouldn't expect the Panasonic Lumix DMC FT25 to offer the rugged performance that it does. However, the DMC FT25 is as ruggesd as it gets, at least among cameras in its class (waterproof camera). So, no, it's not the GoPro HERO3 but it does perform quite well under pressure.
The Good
Quad Proof Ruggedness – waterproof, shockproof, dustproof and freezeproof
16.1 Megapixels
MEGA OIS (optical image stabilizer)
Creative Control and Creative Retouch
Small, Lightweight and Slim
The Bad
No WiFi
No GPS
720p video only
The Consensus
This camera is the little brother of the FT5 and it is practically the same camera but with fewer features than the FT5. The small, lightweight and slim FT25 is without GPS and WiFi features but if you are don't want to pay extra for these features, this is the one for you to use to document your indulgence in the adventures of a lifetime.
The Lumix DMC FT25 can go to a depth of 7 meters (23 feet) underwater- few waterproof cameras can go deeper. It is shockproof, able to withstand drops from as high as 1.5 meters (5 feet). Freezing temperatures as low as – 10°C or 14°F also pose no threat to this little guy. Because of its waterproofing capabilities, it is also quite good at being dustproof as well.
This camera also allows you to compensate for hand-shake to eliminate blurring with its MEGA OIS (Optical Image Stabilizer). The DMC FT25 also comes with a few inbuilt features that will help you to exercise your creative vision with this cam. One of these tools is Creative Control which you can use while recording and the other is Creative Retouch which is used in playback mode. It is tough with a touch of artistic class.
Panasonic Lumix DMC FT25 Reviews on Amazon!!
Hardware and Design
It is as lightweight as it gets at 144 grams but only 125 grams without the battery and SD memory card  and it measures 58.3mm x 19.7mm x 103.7mm. It is tougher than your average camera and it is more for the adventurous and outdoorsy individual. It boasts of good looks and very stylish. The controls are easy to get to and very intuitive and anyone can learn them in a jiff.
Video and Image Modes
It is a 16.1 Megapixel camera with a 1/2.33-type CCD Sensor. It has a 4x Optical Zoom, 8x Intelligent Zoom and a Digital Zoom at a Max of 4x. With a shutter speed of approximately 8 – 1/1300 sec, you can shoot pictures fast. The aperture is F3.9 – 5.7 / 2-step (F3.9 / 9.0(W), F5.7 / 13.0(T)). Its Focal Length for still images is f=4.5 – 18.0mm (25 – 100mm in 35mm equiv.) and for Motion Picture Recording is (29-108mm in 35mm equiv. in video recording). Blur-free with its Optical Image Stabilizer MEGA O.I.S. (On with Active Mode (Only for Motion Picture).
Picture Quality
[1:1] 3456×3456 (12M)
[4:3] 4608×3456 (16M) / 3648×2736 (10M EZ) / 2560×1920 (5M EZ) / 2048×1536 (3M EZ) / 1280×960 (1M EZ) / 640×480 (0.3M EZ)
[3:2] 4608×3072 (14M)
[16:9] 4608×2592 (12M)
Motion Picture Recording is available in 2 modes, HD Video 1280 x 720 pixels, 25 fps (HD: 10Mbps / MP4) and STD Video 640 x 480 pixels, 25 fps (VGA: 4Mbps / MP4).
Performance
Not the most rugged in its class but tough enough for your average adventure. It makes those vacations and outdoor activities last longer with the memories captured in crisp clarity but if you are into the extreme, GPS and WiFi this is not the camera for you.
The package is all there but it does not get you everything, only the basics the sound is even basic and only gets you mono quality. Its big brother, the FT5 is a better camera but for the price conscious and those who do not need GPS and WiFi, it is the better choice and you get the added benefit of a slimmer and sleeker camera with similar ruggedness.
Panasonic Lumix DMC FT25 Reviews on Amazon!!
Battery Life, Wi-fi, and Other Features
It is able to take 250 pictures on a full charge and the battery can last 50 minutes for motion pictures. Its built- in- memory is about 70MB. WiFi and GPS are not included and if you are into that you might want to look to other cameras. Have some fun as well with the included software – PHOTOfunSTUDIO 9.0 SE.
Accessories and Mounts
What's in the box?
Battery Pack
Battery Charger
AC Cable
USB Cable
Hand Strap
CD-ROM Included Software PHOTOfunSTUDIO 9.0 SE
Conclusion
Get the FT25 for its good looks and stylish design, for its lightweight, slim and compact size, for its rugged nature and for its price and value. It is not for the GPS and WiFi user but for the simple adventurer, it works really well.
Panasonic Lumix DMC FT25 Reviews on Amazon!!
Related Links