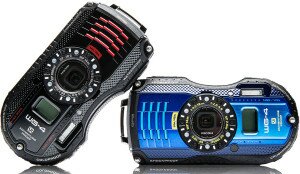 If you love adventure and love taking lots of pictures of these adventures, you can rely on the Ricoh WG-4 GPS. Ricoh bills it as an "adventure-proof" camera that is as tough as they come, with waterproof abilities as deep as 14 meters and the ability to withstand temperatures of -10 degrees Celcius.
Its waterproof capabilities also ensure that dust is not an issue, and of course the WG-4 is shockproof as well, able to withstand forces of up to 2 meters. As mentioned, cold is not a problem either, as the WG-4 can handle temperatures as low as -10°C. Weighing it down with up to 100 kilograms will not crush it either. Pretty much everything the environment has in store, the Ricoh WG-4 GPS is able to handle it.
The Good
Dives down underwater to a depth of 14 meters
Cold temperatures, even at -10°C, are not a problem.
Drop forces of up to 2 meters are nothing.
Heavy weights of up to 100 kilos are not an issue.
The Bad
Stiff buttons make it harder to control.
The monitor's widescreen format is not cool with the 4:3 image format.
A brighter screen would be better.
Tripod mount is unnatural and might not be the most stable.
The Consensus
People who already have a WG-3 may want to hold off on buying the WG-4, as much not has changed. Even if you are a first time buyer, you might choose to explore other options on the market, but know that the WG-4 GPS can certainly duke it out with the best of them.
Ricoh WG-4 GPS Reviews on Amazon!!
Hardware and Design:
If you are familiar with the earlier incarnations of the WG-4 GPS then you will probably notice that on the exterior nothing has changed, including its dimensions and its weight. The camera buttons are a bit stiff due to the waterproofing seals but they remain easily accessible. Though it is larger than other compact cameras on the market, the WG-4 GPS still feels pretty great when held in one's hands.
Video and Image Modes:
From 16M(4608×3456) to 640(640 x 480), it can capture images according to most needs and at varying qualities – excellent, very good and good. You can capture most images because of the fast shutter speeds at 1/4000  – 1/4sec (Mechanical and electronic shutter) and 1/2000- 4sec (Night Scene mode setting). You can shoot full HD vids at 1920 (1920×1080) with about a 30fps rate and HD quality 1280 (1280×720) at 60/30fps. The Focal Length is 4.5 – 18mm which is approximately 25 – 100mm in a 35mm camera. The normal aperture is between F2.0(W)-F4.9(T) and the smallest aperture is between F11.3(W)-F18.5(T). Digital zoom is about  7.2x and optical zoom is about 4x.
Performance:
This camera is tough and though it doesn't perform as well as the category leads, its performance is far from shabby. Sound quality is standard or average, but this camera really stands out because of the It stands out because of its sophisticated GPS functionality.
Battery Life, Wi-fi, and Other Features:
The battery can sustain an approximate still image shoot with a total of 240 shots. Playing back your vids can get you an approximate runtime of up to 200 minutes and in movie mode you can get about 65 minutes of continuous use. It has no WiFi but it has other features like an electronic compass, a barometer, it can imprint a date, do noise reduction, perform with a Digital Shake Reduction system, it is also compatible with Eye-Fi cards and has a dynamic range when it comes to shadow/highlight adjustment.
Ricoh WG-4 GPS Reviews on Amazon!!
Accessories and Mounts:
PC: MediaImpression 3.6.2 LE
Mac: MediaImpression 2.2 LE
Rechargeable lithium-ion battery D-LI92
Power adapter D-PA135
USB cable I-USB7
Carabiner strap O-ST144 (for black and silver WG-4/GPS)
Carabiner strap O-ST145 (for blue and lime yellow WG-4/GPS)
Macro stand O-MS2
Software (CD-ROM) S-SW145
Optional Accessories:
Rechargeable battery Li-Ion D-LI92 – 39800
Charger kit K-BC92E – 39804
AC adapter K-AC117E – 38971
Video cable I-AVC7 – 39552
USB cable I-USB7 – 39551
Macro stand O-MS2 – 38642
Lens adapter O-LA135 – 38654
Wide conversion lens DW-5 – 171930
Carabiner strap O-ST118 (Y&B) – 39003
Carabiner strap O-ST103(OR) – 39861
Chest harness – 50284
Remote control O-RC1 – 39892
Floating Strap – 50195
Black neoprene case – 50282
WG Flat adhesive mount O-CM1471 – 37030
WG Handle bar mount O-CM1472 – 37031
WG Suction Cup mount O-CM1473 – 37032
WG Holder O-CH1470 – 37033
WG Repair parts 1 O-CM1474 (for O-CM1471) – 37034
WG repair parts 2 O-CM1475 (replacement nut for O-CM1471/72/73) – 37035
WG Repair parts 3 O-CM1476 (for O-CH1470) – 37036
Conclusion:
It may not be necessary to buy the WG-4 GPS if you have the WG-3 GPS and there are others that can be quite as good but the preferences will dictate your choice. It is a great and strong camera but it is not exceptional.
Ricoh WG-4 GPS Reviews on Amazon!!
Related Links