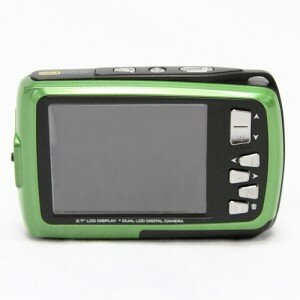 The Polaroid iSO85 is a shockproof, freezeproof, dustproof and waterproof camera that floats. You do not get any advanced features like the others in its class but it still takes pretty pictures. Simple and easy to use, its features are stripped down and basic but this cam works just fine for those requiring only a good picture taker in a tougher-than-average package.  The  iSO85 is also one of very few and perhaps the only camera on our list that features dual LCD screens at both its front and its back.
The iSO85 also diverges from other cameras in its class by running on a set of AAA batteries rather than rechargeable ones.  This can be good or bad depending on how yo look at it, and Polaroid's mindset seems to have focused on the occasional difficulty of recharging a battery, the time it takes to do so, and the fact that charges are easily lost, especially by those on the go.
Personally we would prefer a rechargeable battery rather than the Triple As but overall we found the Polaroid iS085 to offer reasonably strong, but far from best-in-class, performance for the money.
Polaroid iSO85 Reviews on Amazon!!
The Good
Shockproof, freezeproof, dustproof and waterproof
16 MP
Floats
Affordable
Dual LCD Screens
AAA batteries  (depends who you ask)
The Bad
Lacks advanced features like other cameras in its class.
No GPS and WiFi.
Needs additional purchase of memory card.
Memory Limited
AAA batteries (depends who you ask)
The Consensus
The iSO85 has some good points but it lacks many features commonly seen in its competitor's cameras. Even so, it is good enough for simple needs and if you do not need to get fancy with your pictures you are all set with the Polaroid iSO85. In fact, it is one of the cheapest out there on the waterproof camera market but is built with affordability, not peak performance, in mind.
Hardware and Design:
As mentioned above, the AAA battery situation is about a 50/50 split, some like it and others don't but what is surprising is the fact that their opinions on the matter are also on the extremes. Mostly people either give an 85 – 100 percent approval rating for the AAA batteries or a 25 – 0 approval rating and very few find themselves in the middle. The overwhelming majority do choose the iSO85 for its price and they feel it is money well spent for their simple needs.
This lightweight compact camera has a plastic exterior that offers very little grip. It is durable but I won't take it for extreme adventures. The dual LCD screens are cool and functional. The memory card and battery compartment has one door and is easy to get to. The buttons on the camera are all in the right places but they are slightly on the small side so gloves and these buttons don't quite mix. In cold weather for example, you might have to remove those gloves, take a picture and quickly put them back on.
Video and Image Modes:
The iSO85 from Polaroid is a 16 MP camera that has a 5x zoom. It takes both still images and video that looks good enough but both are at the low end of quality compared to other cameras in its class. The image stabilizer works well enough and is partly responsible for the good quality of the images and video.
Polaroid iSO85 Reviews on Amazon!!
Performance:
It only dives to depths of 10 feet but it does float so there is no chance of losing it and sinking to the bottom of the sea, lake, river etc. and it is perfect for poolside fun. It will survive the occasional drop, dust is never a problem and cold freezing temperatures won't hamper performance. Still image and video quality is not remarkable and is on the lower end of the spectrum but when simplicity is your goal, the camera fills that role just fine. The AAA batteries give it instant responsiveness because you do not have to wait, while others are charging you just ditch the spent batteries, put in new ones and you are good to go. The readily available AAA batteries are also widely available and cheaper.
Battery Life, Wi-fi, and Other Features:
AAA batteries might be at the low end of capacity but you will never beat their availability in the market, any store will practically have them and they are not expensive at all. It will take fewer pic than the cameras in its class on one set of AAAs but you can just drop-in new ones and keep on going. WiFi, GPS and many other advanced features are non-existent for this camera but such simplicity allows you to lose all that complex familiarization with a new camera. 2.7-inch (rear) and 1.8-inch (front)
Accessories and Mounts:
Supplied
User guide
Wrist Strap
CD
USB Cable
Additional Purchase
Micro SD card
Conclusion:
Picking from the bottom of the barrel in terms of performance and quality but a great value for the money being asked for it. If you have simple needs and hate the complexity of all those added features, this camera is for you.
Polaroid iSO85 Reviews on Amazon!!
Related Links