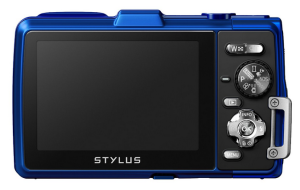 The Olympus TG 830 iHS has been dubbed to be lifeproof by the makers of the camera and this conclusion is based on the fact that the TG 830 iHS is waterproof, dustproof, shockproof, crushproof and freezeproof. Being life proof does not mean a compromise in performance as well, it has a 16MP highly sensitive and high-speed BSI CMOS sensor, a TruePic VI Image Processor, high ISOs and quick shutter speeds, quick start up times, to ultra fast shot-to-shot intervals and blazing autofocus. Add to that, it can automatically detects the subject, lighting and situation, has super resolution zoom, has the ability to record videos and still images at the same time, reduce camera blur caused by walking or breathing and so much more.
Olympus TG 830 iHS Reviews on Amazon!!
The Good
WATERPROOF – dunk it in as deep as 33ft/10m of water and still use it without problems.
SHOCKPROOF – drop it from as high as 7ft/2.1m and it will go on shooting with no issues.
CRUSHPROOF – pressure forces of up to 220lbf/100kgf will not crush it so you can keep shooting.
FREEZEPROOF – common problems like lens condensation and auto zoom malfunction are now a thing if the past and it can keep taking pictures and video in cold temperatures as low as 14°F/-10°C.
DUSTPROOF – if water can't get in, dust can't either.
The Bad
A sharper LCD would make it better.
Though it can reduce camera blur, at 1080p the camera captures are a bit shaky.
Low light ability falls behind and can be better.
Though the double locking doors protect they can be a drag to access what's inside.
The Consensus
A large majority do not consider it as a great camera but rather they tag is a good one. That is quite nice considering that it is not the top of the line when it comes to ruggedness and image quality. For the price that it is offered at, many consider it as a good purchase for the amount of money that they shell out and the camera features that they get. Some in its class do not even have GPS and this one includes it in its feature package.
Hardware and Design
The TG-830 comes in blue, black, silver, or red and like many others, the lens is located in the top right corner. It is relatively light and compact at 2.6 x 4.3 x 1.1 inches and it only weighs 7.5 ounces. For some hands, grip might be an issue and the double locking doors can be tedious when getting to what they are protecting. The buttons are easily accessible and there is no steep learning curve to master the controls.
Video and Image Modes
You can have excellent 16 Megapixel JPEG images from the BSI CMOS sensor and have the ability to shoot fast at 1/4 – 1/2000 (Night Scene: Longest 4 Sec). The Focal Length/Lens Configuration is 5.0 – 25.0mm (28 – 140mm in 35mm photography) and the Focus Range (from lens surface) in Normal Mode is W: 0.2m – ∞; T: 0.5m – ∞ and in Super Macro Mode is 0.03m – 0.6m. Be able to rely on Face Detect AF, AF Lock and AF Tracking. There is also that 5x Optical Zoom + 2x Super Resolution Zoom + 4x Digital Zoom for distance shots and for getting really up close. Aperture Range could be more but f3.9 (W) – f5.9 (T) is OK.
Movies can be captured in 1080 60i, 1080p, 720p, VGA, High Speed 120fps (720p), and High Speed 240fps (QVGA). The TruePic VI makes them all look great.
Olympus TG 830 iHS Reviews on Amazon!!
Performance
It is waterproof, dustproof, shockproof, crushproof and freezeproof so it is as tough as it gets. Although, 33ft/10m is not  that deep but it ensures that dust is not going to be an issue. Still images are sharp with very little noise and are a product of the highly sensitive and high-speed BSI CMOS sensor. The TruePic VI Image Processor also ensures that video is crisp and clear.
Battery Life, Wi-fi, and Other Features
The battery life of the CIPA DC-002 can go on for 300 shots and 80 minutes of continuous video shooting. The GPS and e.compass saves location and landmark information which is then displayed and recorded with the image logging location to track routes taken from recorded images can also be saved with Google Earth and Picasa.
Accessories and Mounts
Included:
LI-50B Battery
F-2AC AC Adapter
Strap
USB Cable CB-USB8
Warranty Card
Set-Up Manual & Instruction CD
Quick Start Guide
Waterproof Instructions
Conclusion
For its class, the included GPS is a treat and image quality for still images and video have not been compromised when strengthening the TG 830 iHS and making it lifeproof.
Olympus TG 830 iHS Reviews on Amazon!!
Related Links