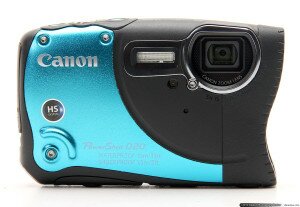 It took Canon three years before coming out with an upgrade to their popular Powershot D10 model, but the Powershot D20 has finally arrived. While it would have been great for Canon to upgrade the D20 to more than 12 megapixels, they have improved on the Powershot in a number of other ways.
Improvements like the High-Sensitivity CMOS sensor and DIGIC 4 Image Processor give it better low-light performance and improve the Powershot's noise reduction capabilities. Video quality has also been upgraded to a full 1080 HD and there is also the addition of an HDMI port. The Powershot D20 now has a 5x optical zoom, a 28mm-140mm image width, and a GPS sensor that tracks where exactly you are snapping pics so you can post them to Google maps quickly and easily.
The Good
Waterproof, Shockproof, and Freezeproof Design – it can be taken to depths of 10 meters (33 feet ), stand drops up to 1.5 meters (5 feet) and keep its cool even at freezing temperatures of – 10°C or 14°F.
The D20's 28-140mm Equivalent Lens with 5x Optical & 4x Digital Zoom – covers a wide range of focal lengths.
3.0″ Rear LCD Screen – see more detail and compose images better with LCD visibility in all conditions.
Built-in GPS receiver –  the camera automatically records the location and time of any video or images that you take.
Optional underwater housing lets you take the camera even deeper – most cameras in its class do not offer this option but the D20 can function as a dive came in most instances once it is equipped with waterproof housing.
The Bad
Sharper images wanted – the images are on the slightly softer side.
Buttons can be a bit stiff but with some use they can loosen up a bit.
Color underwater is not spot on, even with the Scene Modes.
Handheld videos are shaky even with the Intelligent IS Stabilization System
Mono sound.
The Consensus
The Powershot D20 might not be the most rugged cam in its class, but it will do the job for most people. Its dynamic range is limited but its point blank focusing is top-notch. If you can put up with the slightly shaky video it takes and are ok with an average GPS feature, you'll find that the Powershot offers some neat features, like its LCD, that make it stand out. It's definitely one of Canon's lower-price cameras but it is still rich with features.
Canon PowerShot D20 Reviews on Amazon!!
Hardware and Design:
The look is boxy, with its lens situated in the top corner; the left side of the camera is shaped like a wave and screws are visible, perhaps to indicate it is at home in water. The three buttons on the top remain easy to use even when underwater. The plastic buttons at the back are large and textured but the video button is made from chrome metal.
Video and Image Modes:
The image sensor is a 1/2.3 type back-illuminated CMOS that can go 12MP. The image processor is a DIGIC 4 with iSAPS technology and it has an Optical 5x zoom with a Digital zoom that is 4x. Fast shutter speeds of 1 – 1/1600 sec. is the factory default and these are the ISO sensitivities:
AUTO
100
200
400
800
1600
3200
Choose between these shooting modes:
Smart Auto (32 scenes detected)
Movie Digest
Portrait
Smart Shutter (Smile, Wink Self-Timer, FaceSelf-Timer)
Handheld Night Scene
Low Light (3.0MP)
Fish-eye Effect
Miniature Effect,
Toy Camera Effect
Monochrome
Super Vivid
Poster Effect
Color Accent
Color Swap
Underwater
Underwater Macro
Snow
Fireworks
Long Shutter
Stitch Assist
Image Sizes for Vids are:
4:3 – (L) 4000 x 3000, (M1) 2816 x 2112, (M2) 1600 x 1200, (S) 640 x 480
16:9 – (L) 4000 x 2248, (M1) 2816 x 1584, (M2) 1920 x 1080, (S) 640 x 360
3:2 – (L) 4000 x 2664, (M1) 2816 x 1880, (M2) 1600 x 1064, (S) 640 x 424
1:1 – (L) 2992 x 2992, (M1) 2112 x 2112, (M2) 1200 x 1200, (S) 480 x 480
Resize in playback (M2, S, XS)
Quality of videos can be (Full HD) 1920 x 1080, 24 fps, (HD) 1280 x 720, 30 fps, (L) 640 x 480, 30 fps, Super Slow Motion Movie (L) 640 x 480, 120fps, (M) 320 x 240, 240fps, Miniature Effect (HD, L) 6fps, 3fps, 1.5 fps and iFrame Movie (HD).
Movie modes are: Smart Auto (21 scenes detected), P, Portrait, Miniature Effect, Monochrome, Super Vivid, Poster Effect, Color Accent, Color Swap, Underwater, Underwater Macro, Snow, Fireworks, iFrame Movie, and Super Slow Motion Movie.
Canon PowerShot D20 Reviews on Amazon!!
Performance:
It is as tough as other cameras in its league and as a low end tier camera from Canon it is quite good. With the maximum aperture range of only F3.9-F4.8 and that makes underwater work a bit problematic and with the bluish cast in underwater pics, it is certainly not the best but comparable to others, they have the same issues. Audio is a loss as well because it only captures sound in mono quality.
Battery Life, Wi-fi, and Other Features:
Its rechargeable Li-ion battery (NB-6L) can do about 280 shots if the GPS features are turned off. You get about 300 minutes of playback and more than 48 hours of use with only the GPS Logger. It has GPS but it is very basic. It also works with Windows 7 SP1/ Vista SP2/ XP SP3/Mac OS X v10.6 – 10.7.
Accessories and Mounts:
NB-6L Lithium-Ion Battery Pack (3.7v, 1000mAh)
CB-2LY Battery Charger for Canon NB-6L Lithium-Ion Battery
IFC-400PCU USB Interface Cable
Wrist Strap WS-DC8
Strap Mount
Digital Camera Solution CD-ROM
The WP-DC45 or the Underwater case for deeper diving is an optional accessory that one might consider if you want to take it deeper. .
Conclusion:
There are some cameras that are better because the D20 is only at the lower tier of cameras from Canon. That said, it has some great features for such a low-end camera. It may have taken them 3 years to develop the next gen to the D10 but that may be due to the dialed down performance rather than going for the best or else it would not be at its place at the low end of the Canon tier.
Canon PowerShot D20 Reviews on Amazon!!
Related Links