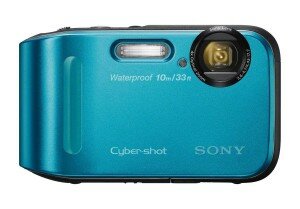 Advertised as being resistant to the roughness of life, the Sony Cyber-shot DSC-TF1 is not afraid of water, and can be operated down to a depth of up to 10 meters for 60 minutes. This waterproof ability also makes it dust-proof and according to the US Department of Defense Test Method it is shockproof as well, having been drop-tested from a height of 1.5 m and dropped on a 5-cm thick plywood board. Even freezing cold temperatures of – 10°C or 14°F are not an issue but battery runtime may be reduced at low temperatures.
The Good
Water, dust, shock and freeze resistant
Light, slim and compact
Good looks
Good value for money at just 242 on Amazon
The Bad
It's toughness could be stepped-up a notch
Sony does not guarantee its resistance to water, dust, shock and freezing
At times, budget price equals budget performance
The Consensus
For a rugged budget camera the Sony Cyber-shot DSC-TF1 is pretty good, but it might not be strong enough to endure the most extreme of adventures. It lies somewhere on the spectrum between ordinary point and shoot and the most extremely equipped cameras on the market. It's definitely rugged enough for the average user, but with Sony's non-guarantee, caution and careful use may be in order. With its classy looks, lightweight, slim and compact size, and plastic construction, getting too rough with this waterproof cam might mean its demise.
Sony Cyber-shot DSC-TF1 Reviews on Amazon!!
Hardware and Design
The Cyber-shot DSC-TF1 i is slim and compact to fit in the average person's palm. It's dimensions are 102.4mm x 62.0mm x 22.7mm (W x H x D). It is a lightweight camera that comes in at about 152 grams with the battery and memory stick or about 136 grams when weighed with the body only, so clearly this cam gets its light weight from the plastic material it is made with.
Sony says it is ready for rough action but I wouldn't get too rough with it. The buttons are all located within easy reach and most users will feel comfortable using them within just a few minutes.
Video and Image Modes
Stills:
16M (4,608 X 3,456) 4:3 mode
10M (3,648 X 2,736) 4:3 mode
5M (2,592 X 1,944) 4:3 mode
4M (2,304 x 1,728) 4:3 mode
VGA (640 X 480) 4:3 mode
2M (1,920 X 1,080) 16:9 mode
12M(4,608 x 2,592) 16:9 mode
Sweep Panorama 360 (11,520 X 1,080)
Sweep Panorama Wide (7,152 X 1,080 / 4,912 X 1,920)
Sweep Panorama Standard (4,912 X 1,080 / 3,424 X 1,920)
Video:
VGA (640 X 480 )
QVGA (320 X 240)
720 (1,280 X 720)
Expect average speeds with a shooting time lag of 0.4 seconds, a shutter release time lag of 0.1 seconds and a shooting interval about 2.8 seconds. With its Image Stabilizer System or Optical SteadyShot the shakiness and blur are kept to a bare minimum.
Performance
Rough but not too rough or you might break it. There is much to be said about its great looks but its ruggedness is not all that great. Images are what you would expect from a budget camera from Sony, they are still great but they are not the greatest. This is partly achieved from its SteadyShot and ISO Sensitivity Settings – Auto/100/200/400/800/1600/3200. The built-in microphone is not that great because it only captures sound in mono quality.
Sony Cyber-shot DSC-TF1 Reviews on Amazon!!
Battery Life, Wi-fi, and Other Features
Battery life is not that great but can be comparable to others in its class. With still images it can do about 200 and when it comes to video you should have about 95 minutes of runtime. You don't get WiFi or GPS but what you do get are picture effects like Toy Camera, Pop Colour, Partial Colour and Soft High-key.
Accessories and Mounts
Supplied:
Rechargeable Battery Pack(NP-BN)
AC Adaptor(AC-UB10C)
Multi USB cable
Wrist Strap
Instruction Manual
Optional:
LCS-TWP/B
BC-TRX
NP-BN1
ACC-CSBN
SR-32A4
SR-16A4
SR-16UYA
SR-8UYA
SR-32UYA
Conclusion
It may be resistant to water, dust, shock and freezing temperatures but just going by the statement from Sony that they do not guarantee that their product can handle it, I would be careful with it. It says "Depending on use conditions and circumstances, no guarantee is made regarding damage to, malfunction of, or the water-proof performance of this camera." Its stylish and cool in its design and that makes it stand out among the rest in its class, so for a pretty yet mildly rugged camera at a budget price you might want to choose this one.
Sony Cyber-shot DSC-TF1 Reviews on Amazon!!
Related Links